Monday, February 27, 2006
SOCAR exports 193,197 tons of crude and oil products since January
27 February 2006 [12:49] - Today.Az – State Oil Company of Azerbaijan Republic (SOCAR) has dispatched 193 thousand 197 tons of crude and oil products from Baku since January. According to AzerTAg, diesel claimed 109 thousand 901 tons of overall amount of cargo exported, while aviation fuel - 5 thousand 116 tons, motor gasoline - 8 thousand 561 tons, refined oil - 23 thousand 862 tons and mazut - 45758 tons. SOCAR reports crude export via Novorossiysk seaport was postponed due to the severe weather conditions. The tanker with 85 thousand tons of oil was dispatched in February.
Azerigas to build Sangachal-Garadagh-Hajigabul pipeline

24 February 2006 – Today.Az – The budget of the project in construction of the high pressure gas pipelines is $45m. "In 2006 Azerigas Joint Stock Company intends to set up the construction of the 68km-long Sangachal-Garadagh-Hajigabul gas pipeline to pass gas to be lifted from Shah-Deniz field into the national gas transportation system," Alikhan Malikov, the chairman of Azerigas, told Trend. This year it is also planned to receive credit for expansion of the capacity of gas compression station in Garadagh built for gas delivery to power station "Shimal". Two compressors with the capacity of 5 million cu m of gas will be installed here. Increase of capacity of the station is needed to carry out gas delivery to Sumgayit steam gas rig, the construction of which is due to complete in 2007. The estimated value of the project is $25m.
Kazakhstan oil can be pumped through BTC in 2010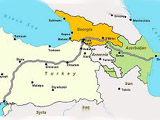 25 February 2006 [20:11] - Today.Az -
Some technical and juridical issues were not yet coordinated.
Natiq Aliyev, minister of Industry and Energy said that the reason of delay was the delay of production from Kazakhstan Kashagan oilfield. According to the minister the companies working in this oilfield said that the first production of oil would be in 2008 and they will not join earlier than 2010, ANS informs. There are also technical problems. Though the sides were coordinated the intergovernmental agreement but the status of document were not defined yet. There are problems with the demands of last year-accepted law for international agreements in Kazakhstan. Mr. Aliyev said that there were some contradicting articles. "It is written there that the legislation of Kazakhstan is higher than any other international laws. That's is why they should make it clear to us. Kazakhstan side promised that the Ministry of Justice of Kazakhstan gives us clearness." According to his words the meeting will be held between sides on March. The status of the contract will be defined in this meeting.
"RusAl" plans to invest $1bn in Azerbaijan
02–22–2006 Today.Az – "Russia's largest aluminium producer "Russian Aluminium" is planning to invest $1bn in aluminium's production in Azerbaijan," the First Deputy Premier Abbas Abbasov told journalists. "Company is planning to build aluminium mill in Azerbaijan and the total volume of investments will be more than $1bn," Mr. Abbasov said. He noted that at the moment the company is searching for the place of future construstion works, Interfax-Azerbaijan informs.
Moscow proposes oil transportation deal to Azerbaijan
22 February 2006" - Today.Az - Russia has proposed to Azerbaijan a long-term agreement on oil transportation via the Baku-Novorossiisk pipeline," the Russian industry and energy minister said Wednesday. "A proposal involving a new option for long-term cooperation has been forwarded to the Azerbaijani side," Viktor Khristenko told a news conference. Khristenko said Moscow was aware of difficulties the Baku-Novorossiisk pipeline deal may face after the commissioning of the Baku-Tbilisi-Ceyhan (BTC) pipeline later this year, RIA Novosti informs. The Baku-Novorossiisk pipeline pumped 4.1 million metric tons (82,000 bbl/d) of crude last year, a 50% increase on the average annual amount of 2.7 mln mt for the previous few years, the minister said. Azerbaijan's Industry and Energy Minister Natik Aliyev said Tuesday that the country planned to transport over 3 mln mt (around 60,000 bbl/d) of crude via the Baku-Novorossiisk pipeline to southern Russia, less than last year. Aliyev's estimates suggest a possible drop of up to 27% on the 2005 level. The amount of oil to be transported from the country will largely depend on the Baku-Tbilisi-Ceyhan pipeline, plan to be completed May 27 of this year, the minister said. Aliyev explained the unpredictability of the figures by the fact that Azerbaijan had no obligations for oil supplies through the Baku-Novorossiisk pipeline as deliveries are based on orders linked to the fuel balance of the country's energy complex, as well as on the production and refining capacity of Azerbaijani companies. According to a bilateral agreement signed on January 18, 1996, a maximum of 5 million tons per year (100,000 bbl/d) could potentially be transported via the Baku-Novorossiisk pipeline. The BTC pipeline will run 1,100 miles, from the Sangachal terminal near Baku, Azerbaijan's capital, through Georgia, to the Turkish Mediterranean port of Ceyhan, carrying around 1 mln bbl/d. According to the minister, crude production in Azerbaijan had grown by 6.65 mln mt in 2005, to a total of 22.2 mln mt (446,000 bbl/d), representing a 43% year-on-year increase. Azerbaijan has long been capitalizing on its substantial hydrocarbon resources, which are mainly concentrated in the Caspian Sea basin. Western investment in the country's energy sector has helped Azerbaijan's economic revival since it gained independence after the breakup of the former Soviet Union. Azerbaijan's GDP per capita reached an estimated $4,600 in terms of purchasing power parity in 2005, which is significantly higher than that of some other former Soviet republics, such as Uzbekistan ($1,900) and Kyrgyzstan ($1,800).
Tuesday, February 21, 2006
Putin in Azerbaijan
02-27-2006 The Jamestown Foundation - Eurasia Daily Monitor -By Vladimir Socor -
Russian President Vladimir Putin paid an official visit to Azerbaijan on February 21-22, presumably to inaugurate the "Year of Russia in Azerbaijan 2006" celebration, following the "Year of Azerbaijan in Russia 2005." While cordial, the atmosphere was far more sober than the love fest of Armenian President Robert Kocharian's Moscow visit last month to inaugurate the "Year of Armenia in Russia" (see EDM, January 16). Azerbaijan's President Ilham Aliyev described the bilateral relationship as an "example of relations between neighbors, practical good-neighborly relations" (Azertaj, February 21). Far from eroding Azerbaijan's reliance on the United States to advance common energy and security interests, Putin's visit inadvertently underscored how little Russia can offer Azerbaijan in those regards. Oil: Azerbaijan declines Russian proposals to increase its reliance on the Baku-Novorossiysk pipeline for export of Azerbaijani oil. Azerbaijan uses this pipeline only as a backup option while committing almost its entire export volumes to non-Russian routes. In 2005, Azerbaijan's State Oil Company pumped 4.1 million tons of oil to Novorossiysk, up from 2.5 million-2.7 million tons annually in the preceding years. This temporary increase was necessitated by delays in commissioning the Turkish section of the Baku-Ceyhan pipeline, even as Azerbaijan's oil extraction grew on schedule, requiring an outlet. Transneft, owner of the Russian section of the Baku-Novorossiysk pipeline, charges a transit fee of $15.67 per ton of oil. The charge is exorbitant, though relatively tolerable as long as oil market prices remain high. However, Transneft cuts further into Azerbaijan's profits by mixing the low-quality Russian Urals blend with high-quality Azerbaijani oil before the latter reaches the world market. A compensation mechanism known as "oil quality bank" is standard international practice, but Russia refuses to use this mechanism with Azerbaijan and other Caspian oil producers. In 2006, Azerbaijan intends to scale back its oil export to Novorossiysk to 3 million tons, provided that the Baku-Ceyhan pipeline's Turkish section is commissioning by May 27 as now rescheduled. Once that problem is resolved, Azerbaijan may reduce its export to Novorossiysk even below the pre-2005 level of 2.5 million tons, unless the Russian side agrees to use the oil quality bank mechanism. In Baku, Russia's Industry and Energy Minister Viktor Khristenko renewed a proposal to Azerbaijan to move from annual contracts to a long-term contract for using the Baku-Novorossiysk pipeline. However, this is clearly not in Azerbaijan's interest (Interfax, February 21, 22; Trend, February 23). Gas: Azerbaijan is extricating itself from dependence on Russian-delivered gas. Azerbaijan imports gas from Russia in order to save fuel oil, which it previously used for electricity generation. It imported 4.5 billion cubic meters of gas in 2005 from Russia and has contracted for the same volume in 2006, despite the price hike to $110 per one thousand cubic meters, up from $60 in previous years. According to Industry and Energy Minister Natig Aliyev, this year's price is reasonable, but the import volumes after 2006 will depend on the price of Russian gas -- i.e., that import may decline. Azerbaijan's State Oil Company plans to raise gas extraction to 4 billion cubic meters annually from the Guneshli field and 9 to 10 billion cubic meters from the Shah-Deniz field by 2008, sufficient to cover internal consumption and some export (Turan, February 21, 22; Trend, February 23). Military Issues: The two presidents' joint communiquй mentions the possibility of "cooperation in military industry," implying procurement of Russian equipment by Azerbaijan. The country is creating a new Ministry for Defense Industry in charge of military procurement. According to First Deputy Prime Minister Abbas Abbasov during Putin's visit, Azerbaijan will cooperate in that regard "not only with Russia, but with various countries, not excluding Russia" (Trend, February 21; Interfax, February 22). Two contentious issues in the military and security sphere were not publicly addressed during Putin's visit to Baku. The first is Azerbaijan's concern over the transfer of some Russian heavy weaponry from bases in Georgia (which are slated to be closed) to Armenia. The other issue is Moscow's proposal for the creation of a joint naval force of the five Caspian countries, Casfor, under de facto Russian control. Minister of Foreign Affairs Sergei Lavrov again raised this issue in a curtain-raiser interview on the eve of Putin's visit (Zerkalo [Baku], February 21). Azerbaijan, however, has resisted this proposal since its inception in 2005 and continues to do so. At the presidents' joint news conference, Putin announced that he has made a "promise" to invite Kocharian to Russia in the near future to discuss a resolution of the Karabakh conflict. The move seems intended to catch up with the United States, which currently leads the effort to settle that conflict. While it may play spoiler, Moscow has few resources to drive that process. Email this article to a friend
21 February 2006
Russia, Azerbaijan reach strategic partnership level - official
MOSCOW, February 19 (RIA Novosti) - Russia and Azerbaijan have reached the level of strategic partnership, an official spokesman for the Russian Foreign Ministry said Sunday. "The parties are exchanging opinions on various aspects of bilateral cooperation, discussing measures to promote political interaction, increase the volume and raise the quality of trade and economic contacts," Mikhail Kamynin said. According to the ministry's official spokesman, trade between Russia and Azerbaijan increased by 40% in 2005 to about $1 billion. Kamynin said both countries were developing cooperation in the fuel and energy sector and in the sphere of transport, industry and agriculture. According to Kamynin, the issues of closer cooperation between businesses of both countries, the elaboration of joint projects in various spheres and the expansion of the contractual law base of economic interaction were also on the agenda.
Wednesday, February 01, 2006
Azeri opposition ready to negotiate with authorities
BAKU. Jan 31 (Interfax) - The leader of the opposition party Popular Front of Azerbaijan Ali Kerimli has said he is ready to negotiate with the authorities. "There has been a dialogue with the party in power and it may resume. The only issue that may be touched upon in the dialog is the creation of election commissions on a parity basis," he said at a press conference on Tuesday. "The provisions of the resolution of the Parliamentary Assembly of the Council of Europe (PACE) on the creation of election commissions on the basis of the proposals of the Council of Europe's Venice Commission should promote the dialog," Kerimli said. At the same time, a discussion of the principles underlining the creation of election commissions is without prospects, executive secretary of the ruling Yeni Azerbaijan party Ali Akhmedov said. "The current elections administration and the principles for forming election commissions are optimal and objectively reflect the situation in the country. We support the existing format," he told journalists on Tuesday. However, he expressed the authorities' readiness to negotiate with the opposition. "If our opponents do not promote actions to hamper dialogue, I think it will become possible in the near future," Akhmedov said.
Contact me: