Thursday, June 26, 2008
Shah deniz gas extraction to make 13 bln cubic meters at the second stage

24 June 2008 - Today.Az - The commercial operator of Shah Deniz field development project, locating in the Caspian Azeri Sea- StatoilHydro Azerbaijan has predicted the annual extraction following launching of the second phase to be 13 bln cubic meters. Company president Christian Haussken said the extraction in the framework of the second phase will start in 2013. "Here, everything depends on our skills. Expansion of works in the future is possible". Christian Haussken announced that the decision on official launching of works will be adopted in the first quarter of 2009. As for the offer to sell Shah Deniz gas to Iran and Russia, he noted that initially the company must estimate the cost of the issue and after it the variants of sale will be discussed. It should be noted that Shah Deniz annual gas extraction currently makes 4-5 bln cubic meters. It should be reminded that volume of natural gas extraction from the Shah Deniz field in 2007 made 3.16 bln cubic meters, which is up 12.4 in comparison with the due forecast. SOCAR accounted for 1.594 bln cubic meters in the whole volume of extraction. The extraction volumes made 13.84 mln cubic meters in January, 43.07 mln cubic meters in February, 115.34 mln cubic meters in March, 109.33 mln cubic meters in April, 100.01 mln cubic meters in May, 157.16 mln cubic meters in June, 169.346 mln cubic meters in July, 156.84 mln cubic meters in August, 133.88 mln cubic meters in September, 168.5 mln cubic meters in October, 181.993 mln cubic meters in November and 244.73 mln cubic meters in December. Gas is currently being extracted in four wells. The production sharing agreement involves BP (operator-25.5%), Statoil (25.5%), SOCAR (10%), LUKOIL (10%), NICO (10%), Total (10%) and TRAO (9%).
Anne Derse - US will support Azerbaijan in WTO accession

24 June 2008 - Today.Az - US ambassador Anne Derse highly evaluates the process of Azerbaijan's WTO accession, reports the press service for the Economic Development Ministry, according to Novosti-Azerbaijan. During the meeting with Minister Heydar Babayev on Monday the US ambassador voiced readiness of her country to support the republic in this issue. She said Azerbaijan's WTO accession will primarily promote the development of the non-oil sector. Babayev informed the ambassador about the process, particularly, about the recent fifth session of the work group, which adopted a decision to prepare a Fact Summary. The draft document will be worked out and presented to Azerbaijani side until August. The Minister announced that the process of answering to US and EU questions to complete no later than September is currently going on. He stressed expediency of holding the sixth session of the work group until the end of the year. Speaking about the process of bilateral talks, H.Babayev announced that protocols with Oman and United Arabic Emirates were signed in the framework of the fifth session and similar documents will further be signed with Kyrgyzstan, Georgia and Moldova. It is also planned to hold multilateral talks on internal support of agriculture, which has a great importance for WTO accession. The Minister also informed Derse that a special department of external trade and WTO policy has been created under his Ministry. The meeting was also attended by USAID coordinator on Azerbaijan Scott Taylor, head of the project of US government "Support of reforms in the sphere of trade and investments in Azerbaijan" Paul Davis and chief of department of Economic Development Ministry Adalyat Muradov.
New platform launched at Neft Dashlary field in Azerbaijan
20 June 2008 - Today.Az – New two-unit platform No 2387 has been launched at Neft Dashlary field, reports Day.Az with reference to the SOCAR press service. The platform is reported to be set at a depth of 24.5 meters. It is planned to drill 12 wells on it. The platform has 4 moorings and a helicopter space. Moreover, a residential unit for 72 people has been set at the platform. The first three wells have already been drilled there. Assimilation of the first two wells was initiated following laying of oil and gas pipelines on the sea floor. The fourth well is currently bring drilled. The fifth one will be launched by the end of the year. Two-unit platform No 2415 is being installed at the Neft Dashlary field. Both units are fixed on the sea floor, a mooring and a helicopter space have been prepared. Construction of a residential unit is nearing its end at the Zikh-2 section. In line with the schedule, the platform will be launched in December of this year.
Azerbaijan produces 19.9 mln tons of oil and 9.8 bln cubic meters of gas
18 June 2008 - Day.Az - Azerbaijan produced 19.9 mln tons of oil and 9.8 bln cubic meters of gas (including 6.5 bln cubic meters for sale) in January-May of 2008. Day.Az reports with reference to the State Statistical Committee of Azerbaijan that this is 13.4% and 74.7% higher, as compared to the due period of the last year. At the same time a greater part of production fell on the Azerbaijan International Operating Company, producing 16.3 mln tons of oil and 3, 496.6 bln cubic meters of gas, which is 17.1% and by 2.2 times higher as compared to the same period of the last year, respectively. In January-May the average monthly wage of extractive industries workers made AZN 1030, which is 22.6% as compared to the due period of the previous year.
500th tanker load of oil pumped by Baku-Tbilisi-Ceyhan pipeline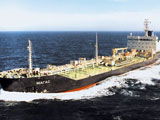 17 June 2008 - Day.Az – The group of Baku-Tbilisi-Ceyhan export pipeline, operated by BP, has load the 500th tanker with Azerbaijani oil. This oil has been delivered from the Sangachal terminal near Baku, via the territories of Azerbaijan, Georgia and Turkey to Ceyhan port. Day.Az reports with reference to BP-Azerbaijan that the 500th St.Elena tanker arrived at Ceyhan on June 14. The tanker was load with 630,000 barrels of crude, belonging to SOCAR. Azeri-Chirag-Guneshli oil is intended for Triest (Italy). Since the beginning of expert operations in 2006, BTC has been operated with good safety indicators. The capacity of the pipeline was constantly raising and the top daily capacity made 949,393 barrels on May 11 of 2008. Moreover, in May of 2008 another record was set on BTC-within a month 37 tankers were load in Ceyhan and the total volume of export made 29 mln barrels of crude. Overall volume of oil and condensate, so far exported by BTC, nears 397 mln barrels (over 53 mln tons). Currently, the volume of production, exported by BTC, has neared 850,000 barrels per day and the pipeline is expected to transport 1 mln barrels per day (nearly 50 mln tons per year) later this year. Currently, work is carried out at raising the pipeline capacity by 20%, which allows to bring it to 1,200 barrels per day. The increase in the pipeline's capacity to complete by December of this year will expand the capacities of export of Azeri-Chirag-Guneshli and Shah Deniz hydrocarbons in the near future and ensure additional capacities in the long term perspective. BTC Co. shareholders are: BP(30,1%, operator); АzBTC (25,00%); Chevron (8,90%); StatoilHydro (8,71%); TPAO (6,53%); Eni (5,00%); Total (5,00%), Itochu (3,40%); INPEX (2,50%), ConocoPhillips (2,50%), and Hess (2,36%).
Natiq Aliyev - Azerbaijan will primarily export gas to Europe

17 June 2008 - ARA News - Azerbaijan will be able to export more gas to Russia, Iran, Turkey and other countries after Umid, Babek, Sherg, Nakhchivan, Absheron and other promising gas fields go on stream in the Azerbaijan sector of the Caspian Sea, said the country's minister of industry and energy. Natiq Aliyev added that Azerbaijan's main objective is to deliver its natural gas to Europe and that's why the increasing amounts of gas will primarily be pumped to Europe. 'Directing gas flow routes towards Europe will enable Azerbaijan to reach several goals, such as European integration, approaching the EU and getting keys to political, economic and commercial issues,' he underlined. According to him, Russia, Iran, Greece, Italy, Switzerland and several other countries intend to buy Azeri gas. 'Azerbaijan is enjoying a rapid growth of revenues from oil and gas and the growth will continue. It would be premature now to say how Azeri gas will be delivered to the market after 2013,' he added.
Societe Generale to allot $140 mln for construction of oil and gas terminal in Sangachal
17 June 2008 - Day.Az - French Societe Generale will allot a credit in the amount of $140 mln for the project of construction of an oil and gas terminal in Sangachal, reported deputy chief executive of the Azerbaijan Investment Company Riad Qasimov. He said the credit will be alloted in two tranches -in the amount of $40 mln and $100 mln and the agreement on this issue is planned to be signed by September of this year. "The total cost of the project makes $175 mln with $36 mln assigned by AIC and Azersun Holding, implementing the project. AIC has already contributed its share in the amount of $9 mln", said Qasimov. He noted that the terminal construction will be held in three phases. The first phase envisions capacity of the terminal of 5 mln tons, the second 25 mln tons, the third 50 mln tons per year. "The second stage stipulates for construction of moorings, conclusion of a contract with oil suppliers, in particular, with Kazakhstan and Turkmenistan", said Qasimov.
Well of 30 tons daily output drilled in Neft Dashlary field

13 June 2008 - Today.Az - The 1908th well has been launched at five-bloc platform No 1887. Novosti-Azerbaijan reports with reference to SOCAR that the well daily output is 30 tons from a depth of 2818-2810 meters. Thus, the number of new wells reached 12 and production volume 400 tons per day. Platform No 1887 was launched in 2006 for the purpose of raising oil output on the oil and gas producing department Neft Dashlary from 821,000 up to 1,200,000 (1.5 times). It is planned to exceed the plan of 1,000,000 in the jubilee 2009, when the 60th anniversary of Neft Dashlary will be marked. This requires launching of 20 new wells. On the whole, it is planned to drill 36 1,000 tons daily output wells in platform No 1887. The drilling is carried out by the Bayil limani offshore exploration drilling department. The department delivers 5-6 new wells to Neft Dashlary oil and gas producing department each year. There is a plan to initiate drilling works at two new platforms to drill 24 wells there, in the near future.
SOCAR not intending to be shareholder in Nabucco gas pipeline construction

12 June 2008 - Day.Az - "The State Oil Company of Azerbaijan does not intend to become a shareholder in the Nabucoo gas pipeline construction", SOCAR president Rovnaq Abdullayev told reporters. He said his company may face a number of problems if along with gas supplies it undertakes the shareholding functions. He also noted that this and a number of other issues of Nabucсo project will be discussed at the meeting to be held in Austria in late June.
Alan Waddams - Investment climate in Azerbaijan is too intricate for individual investments

11 June 2008 - Neftegaz.Ru - Investment climate in Azerbaijan is too intricate for individual investments, said Alan Waddams, head of the representative office of the European commission, EU ambassador to Azerbaijan at the session of the Caspian business integration club (CIBC). "There are bureaucratic obstacles, but the Azerbaijan Economic Development Ministry works in this direction and one window principles in business registration, introduced in Azerbaijan, can be listed as a visual example. If processes for improvement of investment climate continue in Azerbaijan, European countries will invest more, use human, natural and other resources of the country for mutual benefit", said Waddams. "The EU market is open for Azerbaijan. As regards investments, EU has certain demands. Nevertheless, all markets try to create conditions for foreign investments", said the European commissioner. EU bases on tariffs, which are small and trade is conducted even on the tariff-free level.
Natik Aliyev - It is not profitable for Azerbaijan, as a gas reserves owner, to make forecasts for 5 and 10 years
05 June 2008 - Georgia-Online - Azerbaijan will not sign long-term agreements on gas supplies to Georgia. Georgia's initiative on signing a long-term agreement on supplies of Azerbaijani gas is not supported in Azerbaijan, Azerbaijani Minister of Industry and Energy Natik Aliyev told reporters. He explained that long-term contracts are frequently violated and therefore, they should be signed for a year. "It is not profitable for Azerbaijan, as a gas reserves owner, to make forecasts for 5 and 10 years. Short-term agreements work well and are effective of goods owners", said Aliyev. On the basis of short-term contracts Georgia receives Azerbaijani gas from Shah Deniz, Azerigaz and the State Oil Company of Azerbaijan.
SOCAR and French Total sign contract on joint development of Absheron structure

05 June 2008 - Finmarket - The State Oil Company of Azerbaijan and French Total signed an agreement on basic commercial principles of the production sharing agreement on the Absheron structure development, Interfax reports with reference to SOCAR. Total's share in the contract is proposed to make 60% and SOCAR's 40%. SOCAR intends to sign a production sharing agreement on Absheron structure development, which will lay a legal basis for its development. By estimates of the SOCAR specialists, the proven reserves of the Absheron structure make 300 bln cubic meters of gas and 45 mln tons of condensate. The memorandum between SOCAR and French Total on the Absheron structure was signed in early February of 2007. A contract on the Absheron structure development, which involved Chevron (30%), SOCAR (50%) and Total (20%), was signed in 1997. The proposal volume of investments to the project was estimated at $3-4 bln. Initially predicted hydrocarbon reserves made 1-3 trillion cubic meters of gas and 150 mln tons of gas condensate. Yet, the first exploration well, revealing small gas reserves was drilled in 2001 and Chevron rejected further works. The contract lost its power in 2005.
Thursday, June 05, 2008
South Stream pipeline may carry Azerbaijani oil
MOSCOW. (Political analyst Ilgar Velizade, Azerbaijan, for RIA Novosti) - Gazprom CEO Alexei Miller has made a surprise proposal during his short stay in Baku. The press release of the Russian energy giant says he has proposed buying Azerbaijani natural gas at market prices under long-term contracts. Analysts immediately concluded that Russia needs Azerbaijani gas for the South Stream pipeline, under construction to pump Central Asian gas to Europe. Baku is currently hosting the 15th International Caspian Oil and Gas Exhibition and Conference. Judging by the number of participants, which keeps growing every year, global interest in Azerbaijan's energy resources is increasing. This year, 380 companies from 33 countries are attending the forum. They are analyzing the recent statements by the Azerbaijani leaders about the country's huge energy resources, trying to determine if they will be enough for the current projects. President Ilham Aliyev has said oil production in Azerbaijan will grow to 60 million metric tons (441 million bbl) by 2009 from 50 million metric tons in 2008, and that the country has enough natural gas to satisfy domestic requirements in the next 100 years. Experts say that Azerbaijan has 1.5 trillion cu m (52.95 trillion cu f) of prospected gas reserves, including at the Shah Deniz offshore deposit in the Azerbaijani part of the Caspian Sea, with recoverable reserves of 1.3 trillion cu m (45.89 trillion cu f) of natural gas. Azerbaijan annually consumes 10-11 billion cu m (388.3 billion cu f) of gas. Foreign policy priorities today largely depend on the direction of export pipelines. Therefore, such projects as the Nabucco pipeline, designed to deliver natural gas from Central Asia to the EU via Azerbaijan and Turkey, bypassing Russia, is a political rather than an economic project. Remaining an outsider in this event means losing instruments of influencing the situation in the given region. Miller's sensational proposal is evidence of Russia seriously considering ways to regain its positions in the region as an active strategic player. Russia's former tactic of an observer who underestimates the growth potential of the region has apparently not succeeded. Russia's largest private oil producer LUKoil has left the South Caspian region and gas exporters soon followed in its footsteps, weakening the country's economic positions there. Therefore, Miller's visit to Azerbaijan can be interpreted as an attempt to change the energy transportation policy in the region to suit Russian interests. On the other hand, it may also point to the intention of the Vladimir Putin government to focus on foreign economic policy. Rovnag Abdullayev, president of Azerbaijan's State Oil Company, said: "We will use the most profitable routes to export gas," choosing between the Nabucco pipeline, the Trans-Adriatic pipeline and Gazprom's proposal. Azerbaijan has not initiated any new pipeline projects lately. At the beginning of the year, President Aliyev made a statement signifying that the country would not initiate new energy transportation routes, like other countries are doing, because it wants to stay away from political quarrels between superpowers and other centers of power. Azerbaijan will limit its international role to participation in projects supported by the international community. This position suits the West and Russia, though some people interpret Gazprom's proposal as a trick. According to them, Gazprom has proposed buying Azerbaijani oil in order to draw its attention away from the Nabucco project and therefore hinder its implementation. Others see it as a public confirmation of Azerbaijan's considerable reserves. Another argument is Iran's interest in buying oil from the Shah Deniz deposit, in which Naftiran Intertrade Co (NICO) holds a 10% stake. But probably neither interpretation is the truth: Gazprom is considering possibilities of participating in promising gas projects in the South Caspian region, notably the second stage of the Shah Deniz project, which will start operation after 2012 when production should grow to 20 billion cu m (706 billion cu f). Gas export is expected to grow at this stage and the South Stream, which should be commissioned by 2013, could be used to transport Azerbaijani gas to Europe. As for competition between Nabucco and South Stream, there will be none when both pipes carry Azerbaijani oil.
Contact me: