Sunday, April 30, 2006
SOCAR gained 2,3% advantage after purchasing its share of ACG
28 April 2006 [15:56] - Today.Az - Purchasing $750m of syndicated credit from Azerbaijan Limited (ACG), was significant success for SOCAR, the company did not have its own financial rating. The given deal allowed the company to gain financial means and trust of the international financial institutes, the financial vice-president of SOCAR, Shanin Mustafayev stated, according to Trend. The given credit has been submitted without state guarantee. After securing the credit, SOCAR managed to purchase its investment rights in Azeri-Chiraq-Guneshli (ACG) project exploitation. Previously, Exxon Azerbaijan Limited and Turkiye Petrolleri shared the 10% investment rights of SOCAR between themselves, receiving equal amounts of oil. Both companies invested more than $1bln 150m in the project, Mustafayev said. AzACG bought Exxon Azerbaijan Limited and Turkiye Petrolleri shares for $750m. Part of the sum will be allocated to the rights purchase and a part on investments. According to the credit agreement, oil previously transported by Exxon Azerbaijan Limited and Turkiye Petrolleri will be sold to Glencore and Select Energy Trading (SET). The cost oil will be allocated to the special BNP Paribas account and spent for ACG project investments in cash call. The credit will be provided at libro+1, 7% rate. It has to be paid back within 3-5 years depending on world oil prices. Whereas, Exxon Azerbaijan Limited and Turkiye Petrolleri will receive back their previous investments at 4% rate. Thus, SOCAR managed to get positive 2, 3% as result of deal.
Forbes Magazine on President Aliyev's visit to the U.S.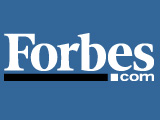 27 April 2006 [13:55] - Today.Az -
Forbes online magazine published an article "Do As I Say, Please" by Matthew Swibel on the Ilham Aliyev's visit to the United States.
The President of Azerbaijan, home to the world's fastest-growing economy and $10 billion in investments from leading oil companies, including BP, worries that a military confrontation between its southern neighbor, Iran, and the U.S. will destabilize his country's fast-growing energy sector. Marking his first official visit to Washington D.C., on Wednesday, Ilham Aliyev, an ally who has sent soldiers to assist the U.S. in Iraq, is warning the White House in blunt terms that escalating rhetoric with Iran will lead to "hurtful consequences" for the Caspian Sea region, an increasingly important oil source for Europe and other Western markets. Rather tough talk from a guy in charge of a place with only 8 million people and a military that has yet to overcome its painful loss in battle to tiny Armenia. Here's why Aliyev can get away with it: The twin pressures of $72 per barrel oil prices and Iran's unabashed nuclear ambitions make him a key player in high-stakes energy and security policy issues. Aliyev's comments during his maiden voyage inside the Beltway as a head of state also underscore an uncomfortable truth within U.S. foreign policy. The U.S. faces an uphill battle in rallying support against Iran's nuclear plans so long as Azerbaijan and other often-ignored countries nearby currently developing their natural resources--and in the process adding to the coffers of U.S. oil firms--transform into proverbial Slurpee cups quenching America's insatiable thirst for oil. Azerbaijan's world-record 25% gross domestic product growth last year will be matched again this year, predict government officials and World Bank economists (this rate of growth is a multiple of the performance of even such notables as China and Dubai). Bordering Russia to the north and Iran to the south and with an energy sector developed by American and European companies, Aliyev jokes that his country is a model of "energy internationalism." Azerbaijan oil revenues will hit $42 billion by 2010, ushering vast wealth into an economy ranked No. 137 out of 158 countries listed in Transparency International's Corruption Perceptions Index. A bevy of well-known companies have taken the plunge into this murky market, which is dominated by state monopolies and the president's well-placed friends. Aside from BP (nyse: BP - news - people ), which owns a 30% stake in the newly opened Baku-Tbilisi-Ceyhan pipeline that sends up to 1 million barrels of oil per day to the Mediterranean port of Ceyhan, Turkey, Chevron (nyse: CVX - news - people ) and ExxonMobil (nyse: XOM - news - people ) both own minority stakes in Azerbaijan's largest single oil production site, the Azeri-Chirag-Guneshli field, or ACG. Even Citigroup (nyse: C - news - people ) got a piece of the action, helping arrange a $56 million, 12-month loan for the International Bank of Azerbaijan, last summer. The American people are investors too through taxpayer-funded USAID programs in Azerbaijan's energy and food processing sectors, notes Reno Harnish, who steps down as U.S. ambassador to Azerbaijan on April 24. Aliyev, keenly aware of the business interests in his country, told an audience at the Council on Foreign Relations this morning that his administration will spend hundreds of millions of dollars on new roads, power stations, schools and hospitals. But Aliyev rejected the notion that his country's air bases could be used for U.S. surveillance or combat missions against Iran. Nor does he envision his government, based in Baku, cooperating with intelligence-gathering efforts against Iran. "Azerbaijan will become a prosperous economy," Aliyev said. "It's better to be friends with us than not." Spot on, if you've visited a gas station recently.
Saturday, April 29, 2006
Assets of International Bank of Azerbaijan reached AZN 1.236 bln
27 April 2006 [09:49] - Today.Az - In January-March of the current year the assets of the International bank of Azerbaijan (IBA) reached AZN 1,235.972 mln. As APA informs, in the relevant period of the past year total volume of active operations of the Bank came to AZN 777.089 mln, annual growth of that indicator is AZN 458.883 mln or 59.05%. The assets of the Bank in the first three months of this year increased to AZN 125.9 mln or by 11.34%. At present bank crediting in the total number of active operations comes to 50.04%, loan portfolio of IBA totals AZN 618.518 mln. In the reporting period AZN 23.419 mln of the incomes entered the Bank, including AZN 16.864 mln (72% of the total Bank's incomes) from the loans supplied to physical and legal persons, AZN 3.745 mln (15.99%) from resources put in banking organizations. The incomes of the Bank from commission revenues and operation services made up AZN 13.165 mln, including AZN 1.884 mln entered from operations with plastic cards. In the reporting period the total incomes of IBA came to AZN 36.585 mln, and it exceeds the incomes obtained by the Bank in I quarter of 2005 by AZN 8.921 mln or 29.33%. Total liabilities of ?BA made up AZN 1140.457 mln by the beginning of the month. Taking into account that the liabilities totaled AZN 1,049.8 mln by the beginning of 2006, three-month growth of that indicator was AZN 90.8 mln or 8.66%. Main part of the liabilities was the funds of legal persons (including Bank's resources), however, by the beginning of this month the amount of savings in deposit accounts of physical persons reached AZN 214.289 mln. Growth of the latter indicator was AZN 16.889 mln or 8.55% in comparison with the data by the beginning of 2006 (AZN 1976.4 mln). Share of savings of citizens in the total liabilities of the Bank reached 19.67%.
XIII International Caspian Oil & Gas exhibition to be held in Baku on June 6-9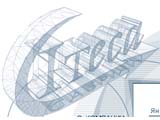 26 April 2006 [09:00] - Today.Az - The XIII International Caspian Oil, Gas, Oil Refining and Oil Chemistry exhibition-conference will be held in Baku on June 6-9. The exhibition is organized by the Iteca Caspian Company, the exclusive partner of the ITE Group Company of Great Britain in Caucasus. As APA was informed from Iteca Caspian, approximately 30% of the exposition will belong to new companies accessing the Azeri market for the first time. A conference "Energy security and transportation of Caspian Sea oil to the world market" will be held within the framework of the exhibition. About 300 representatives are expected to attend the conference to take place on June 7-8. Heads of oil and transport companies, holdings, insurance companies and banks will be among them. High-official representatives of the Ministry of Industry and Energy of Azerbaijan, SOCAR, Ministry of Industry and Energy of Russia, Ministry of Energy and Natural Resources of Kazakhstan, Oil Ministry of Iran, Ministry of Energy and Natural Resources of Turkey, Ministry of Fuel, Energy and Communications of Georgia, US Energy and State Department, and leading companies and corporations will give reports at the conference. The general sponsor of the exhibition and conference is the LUKoil Company of Russia.
President Aliyev meets President Bush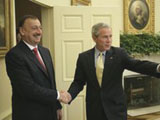 28 April 2006 –Today.Az - Whitehouse.gov -
PRESIDENT BUSH
: Mr. President, welcome. We've just had a really interesting visit. And we talked about the need to -- for the world to see a modern Muslim country that is able to provide for its citizens, that understands that democracy is the wave of the future. And I appreciate your leadership, Mr. President. We, obviously, talked about Iran. I assured the President of my desire to solve this problem diplomatically and peacefully. I appreciate so very much the government's contribution of support in troops to the new democracy in Iraq. I spent time describing to the President a meeting I had today via video conference with our Ambassador and General Casey -- very important for me to bring our ally up to date on the progress that's being made on the ground there. I shared with him my hope that the national unity government will help achieve the objective we all want, which is peace and democracy. And we, of course, talked about energy. And I appreciate the vision of the government and the vision of the President in helping this world achieve what we all want, which is energy security. Azerbaijan has got a very important role to play. And we discussed internal politics and we discussed politics of the neighborhood, as well, particularly relations with Armenia. I appreciate very much the candid discussion. I thank you for sharing your thoughts with me, and thank you for our alliance. And welcome.
PRESIDENT ALIYEV
: Thank you very much, Mr. President. I am very grateful for the invitation. I'm very glad to be in Washington and have an opportunity to discuss with you the issues of bilateral relations. I'm sure that our relations of strategic partnership will strengthen in the future. We covered all the aspects of our bilateral relations. We are very grateful for the leadership of the United States in promotion of the energy security issues in the region, in assisting us to create a solid transportation infrastructure which will allow to develop full-scale Caspian oil and gas reserves and to deliver them to the international markets. We are allies in the war on terror. We've been from the very first day shoulder-to-shoulder with the United States in the peacekeeping operations in various parts of the world, and will continue to contribute to the creation of peace and stability in the region. Of course, the issues of resolution of Armenia and Azerbaijan, Nagorno Karabakh also in the center of our discussions and we -- I informed Mr. President with the latest status of the negotiations and expressed my hope that a peaceful settlement of the conflict will happen and will serve to the peace and stability in the whole region. In general, I'd like to say that I'm very satisfied with my visit and I consider this as instrumental in the future development of Azerbaijan as a modern, secular, democratic country. We share the same values. We are grateful for the United States assistance in promotion of political process, process of democratization of our society, and very committed to continue this cooperation in the future. Thank you very much, Mr. President.
PRESIDENT BUSH
: One final word. I forgot to mention, I do want to congratulate the President and the First Lady on the marriage of their daughter this weekend. It's a major sacrifice for the President to be here during the planning phases of the wedding. And we wish you and the First Lady all the best, and more importantly, we wish your daughter all the best.
PRESIDENT ALIYEV
: Thank you, Mr. President.
PRESIDENT BUSH
: Thank you.
Ilham Aliyev: "Azerbaijan won't be a place for US-Russian confrontation"

28 April 2006 [15:30] - Today.Az - "If the United States of America and Russia want a place for confrontation let them choose not Azerbaijan, but other place," visiting the Unites States of America Ilham Aliyev, President of Azerbaijan told at Business and Investment Meeting of the US-Azerbaijan Chamber of Commerce (USACC). Later the President, Ministers of Economic Development, Finance, Information Technologies, Culture and Tourism reported to the audience. A special video roller devoted to the Azerbaijan was broadcast as well. The most interesting was the interrogation at the conference. But the American community was more interested in Nagorno Karabakh conflict and happenings around Iran. President expressed in his speech that Azerbaijan would participate in the anti-terror coalition operations under the command of the USA aiming to create peace in Iraq. As response to the question of the audience the Head of the state said that Azerbaijan sends to Iraq military forces, but not "drivers" as Armenia. Later President met with Robert Zoellick, Deputy Secretary of State. This meeting lasted more the half an hour than planned. Energy security, transportation of oil and gas to the international market was the topics of the discussion. The Head of the state noted in meeting with the representatives of Azerbaijan Diaspora the Armenian lobby spreads negative opinions about Azerbaijan. Because their main purpose is spot Azerbaijan and introduce it as an anti-democratic country so that Armenians cannot live as minorities. As if they can't live in security here. Ilham Aliyev called Azerbaijan Diaspora to be more active and for close cooperation with one another. President Ilham Aliyev will meet with the US president George Bush, Dick Cheney, vice-president and Donald Rumsfeld, the chief of the Pentagon, ANS reports.
Friday, April 28, 2006
President Aliyev spoke at the 6th Business and Investment Meeting of USACC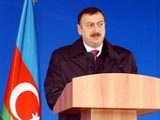 28 April 2006 [00:15] - Today.Az - The Azerbaijani President, Ilham Aliyev presented report at the 6th Business and Investment Meeting of the US-Azerbaijan Chamber of Commerce (USACC) on Thursday, April 27, at the Four Seasons Hotel in Washington, DC.The Head of state informed participants about implementation of energy projects in Azerbaijan, presenting complete information about social and political life in the country. Developing economy in Azerbaijan gave an impetus to the growth of regional projects, integration in the South Caucasus and euro-Atlantic area, Trend reports. Aliyev emphasized the role of the international society in the implementation of regional projects and providing transparency in their development. Special attention is paid to oil and non-oil sectors, President said. More than $1bln has been allocated by the State budget for these purposes also giving strong impetus to other areas of economy. The Head of state provided information about the investment climate in the country, which allows local and foreign investors to invest in the economy development. President said that oil revenues were spend to provide social needs of the people and creatning new jobs.
Wednesday, April 26, 2006
Azerbaijan president begins first visit to US
WASHINGTON, April 26 (Itar-Tass) - Ilham Aliyev is beginning his first visit as Azerbaijan's president to the US. Azerbaijani Foreign Minister Elmar Mamedyarov told reporters on Tuesday that the agenda of Aliyev's visit included energy security, the fight of terrorism, settlement of conflicts in the Caucasus and the situation around Iran. The Azerbaijani leader will meet on Wednesday the leaders of Congress. He will also speak in one of the US' most authoritative foreign policy organizations, the Council on Foreign Relations. On Thursday, Aliyev will hold talks with several representatives of the US administration, including First Deputy Secretary of State Robert Zellick, who is temporarily replacing Secretary of State Condoleezza Rice during her foreign tour. An American-Azerbaijani summit will cap the visit on Friday. Announcing Aliyev's upcoming meeting with US President George Bush, White House press secretary Scott McClellan called Azerbaijan a "key ally" of the United States in a strategically important region of the world and a "valued partner" giving help in Iraq matters.
Thursday, April 20, 2006
U.S. National Public Radio -- With new pipeline, Azerbaijan on verge of oil boom
18 April 2006 [12:36] - Today.Az -
The tiny former Soviet Republic of Azerbaijan is on the verge of an oil boom.
According to Ivan Watson, National Public Radion correspondent, this summer, a 1,000-mile pipeline is expected to begin pumping oil from Azerbaijan's Caspian Sea coast, through neighboring Georgia, to a Turkish port on the Mediterranean Sea. Industry experts say this pipeline will allow Azerbaijan to eventually quadruple its oil exports, but political opponents in Azerbaijan worry that the oil money will help the government of the former Soviet republic stifle pro-democracy efforts. The $4 billion project is backed by the United States, in part because it gets Caspian Sea oil wealth out to the international market, without going through Azerbaijan's much larger neighbors, Russia and Iran. Azerbaijan already has more than a century of experience with oil and the money that comes with it. "By the year of 1901, with a population of slightly more then 130,000, (Azerbaijan's capital) Baku was making 51 percent of the world's output of crude oil," says Fuad Akhundov, a local historian. "It was unbelievable." Pointing to 19th-century mansions built during the country's first oil boom, Akhundov says, "You were a millionaire if it happened to be in your land. So this crazy money of the local oil barons flooded into the streets of the city where they tried to outdo each other with every mansion that they built." Akhundov says that one oil baron built a replica of a Venetian palace. Another built the first opera in the Muslim world. Today, the Azerbaijan State Philharmonic continues to pack in audiences at this recently renovated turn-of-the century concert hall. After the Soviets conquered Azerbaijan in the 1920s, however, oil went from being a blessing to a curse. The countryside surrounding Baku is hopelessly polluted - a wasteland of rusting oil derricks and oil-soaked earth left by decades of rapacious Soviet oil exploration. At the Balakhani oil field, Azeri workers are still struggling to pump oil out of scores of exhausted wells. Meanwhile, just yards away, impoverished Azeris live in one-room cement houses. The question now facing Azeris: What will the country's next oil boom look like? Most of the wells being exploited now are offshore in the Caspian Sea. The oil is pumped first to the Sangachal Terminal, a sprawling, heavily guarded compound of brand new tanks, tubes and industrial machinery that is managed by British Petroleum. The pipeline has been built to pump more than a million barrels of oil a day, from offshore platforms all the way to tanker ships waiting in the Mediterranean Sea. With oil currently selling at more then $60 dollars a barrel, that's a lot of money for Azerbaijan. By around 2010, the government will see approximately a tenfold increase in revenues due to the project, according to David Woodward, the BP executive stationed in Baku. Woodward helped negotiate the pipeline's somewhat convoluted route. He says Azerbaijan's rulers wanted to use this pipeline to link them to the Western World. Woodward says BP wants Azerbaijan to develop into a society where the people have a say in how the country's future revenues will be used. To help absorb and redistribute the coming oil wealth, Azerbaijan's foreign minister, Elmar Mamedyarov, says the government has established an oil fund based on a model used by Norway. But unlike Norway, Azerbaijan is considered to be one of the most corrupt countries in the world, according to Transparency International, a corruption watchdog group. Azerbaijan was also the first former Soviet republic to witness a dynastic succession. In what international monitors described as flawed elections, Ilham Aliyev became president after his father, Heydar Aliyev, died in office. "The government belongs practically to one family that has complete control over all kinds of government decisions at all levels," says Ilgar Mammadov, an Azerbaijani political scientist and former opposition party member. Harvard University's Brenda Schaeffer says very few oil-rich countries become successful democracies. "It's very hard to give up power when you're making billions of dollars a month," she says. Last November, Azerbaijan held parliamentary elections which international observers say were rigged. Inspired by the peaceful revolutions in neighboring Georgia and Ukraine, opposition leader Ali Kerimli tried to organize a sit-in with thousands of demonstrators. He says it was violently crushed by security forces. "They clubbed and wounded more then 90 people," Kerimli says. "Many people have been arrested. Five months later, we're still not allowed to organize rallies. I don't understand how oil can blind you to the suffocation of democracy here." Matt Bryza, a senior official with the U.S. State Department, sees a different situation. "We don't see Ilham Aliyev as a dictator," says Bryza, who monitors the Caucasus region. "We see him as the leader of a country with an emerging democracy that has a long way to go to become a healthy democracy." Later this month, the Azerbaijani president is scheduled to meet President Bush in the White House. In addition to the Baku-Tbilisi-Ceyhan pipeline, the United States is backing the construction of a parallel natural-gas pipeline to Turkey. And negotiations are under way for a link to the much larger oil and gas deposits in the central Asian republic of Kazakhstan.
Final cost of BTC to be known as soon as construction's complete

19 April 2006 [23:51] - Today.Az - As of preliminary estimations, the cost of the construction of the Baku-Tbilisi-Ceyhan (BTC) grew 30% as compared to its initial budget set as $2.95bn at the moment of sanctioning.
As Trend reports, David Woodward, the President of the BP Azerbaijan, told that some $600m is required for fulfilling the pipeline with the technical oil in the volume of 10 million barrels and the repayment of credits.
The estimation on the claims by contractor-companies is underway and final budget of the project will be known upon completion of the construction of the pipeline.
US-Azerbaijan business-forum to be held in Washington April 27

18 April 2006 [14:52] - Today.Az-- The United States - Azerbaijan Chamber of Commerce (USACC) yesterday announced that Ilham Aliyev, President of the Republic of Azerbaijan, will deliver the keynote address at its 6th Business and Investment Conference, the theme of which is entitled "U.S. - Azerbaijan Strategic Relations: Political and Commercial Priorities." The Conference is scheduled to be held in Washington, DC, April 27, 2006. "This conference will provide a chance for the U.S. business community to acquire and develop the most current information about business and investment opportunities in Azerbaijan and the broader Caspian region. Perhaps more importantly, President Aliyev's address will offer an important perspective on the state of the U.S.-Azerbaijan bilateral relationship and should therefore serve to further inform U.S. businesses," said James A. Baker IV, USACC Co-Chairman. "Any U.S. company interested in business opportunities in Azerbaijan ought to attend this important event." Located at the strategic crossroads of southeastern Europe and Asia, Azerbaijan last year recorded 24 percent growth in its booming economy. Driven by historically high oil prices and the commencement of operations of the BTC pipeline that carries the nation's production directly to the Mediterranean, the national economy achieved the highest growth in any country in the world in 2005 and projections for 2006 suggest that this year's growth is poised to reach the same level. During the past decade, Azerbaijan attracted more than $25 billion in foreign direct investment. The top priority of the Government of Azerbaijan now is to direct oil profits to the development of other economic sectors and to attract foreign investment to agriculture, telecommunications, infrastructure, tourism, and other industries. As the USACC celebrates its tenth anniversary, this high-profile event will feature a general session with several panel discussions and presentations, a keynote luncheon and a closing banquet. The conference will offer an unparalleled opportunity to receive updates about Azerbaijan and the Caspian region and to meet with the President and key decision-makers in the Azerbaijani government and business communities. Other scheduled speakers include: Senator Sam Brownback; David Merkel, Director, U.S. National Security Council; Heydar Babayev, Minister of Economic Development; Matthew Bryza, Deputy Assistant Secretary of State; and Samir Sharifov, Executive Director, National Oil Fund.
Shahdaniz Stage-1 construction close to completion

20 April 2006 [12:51] - Today.Az -
The construction operations on Azerbaijan's major offshore Shahdaniz gas-condensate field within Stage-1 are almost complete.
The work is proceeding on schedule to produce first gas on September 30, marking the start of Azeri gas exports from the field to international markets through the Baku-Tbilisi-Erzurum pipeline, the company official Michael Skitmore told the press Wednesday. BP Azerbaijan President David Woodward said 93% of the operations have been carried out since the project was sanctioned on February 27, 2003. $288m out of a total of $865m of the funds designated for this year has already been spent, he said. According to AssA-Irada, the expenses for the operations within Phase 1 will reach $4.1 billion before the delivery of first gas from Shahdaniz to foreign markets in Q4 2006.
Monday, April 17, 2006
Azerbaijan's Q1 GDP rockets 39.5% year on year to over $3.5 bln
BAKU, April 17 (RIA Novosti, Gerai Dadashev) - Azerbaijan's state statistics agency said Monday the country's GDP had risen 39.5% in the first three months of 2006 against the same period last year, to about $3.545 billion. The agency said in a statement that industry had posted year-on-year growth of 58.7%, and accounted for 68.6% of GDP. The services sector share in GDP had slipped by 7.1% to 24.3% in the same period, the committee said. GDP per capita in the same period grew 37.9% year on year to $423.4, the committee said.
Contact me: