Monday, April 30, 2007
SOCAR consolidates its position to be an international company

30 April 2007 [16:58] - APA News - 2007 will be a turning point for the State Oil Company of Azerbaijan (SOCAR). The company has unveiled its long-term plans to penetrate abroad. SOCAR will establish a direct sales office in London by this year's end. Vice-President Elshad Nasirov says the process of tax, administrative and staff issues are under way. "Registration process doesn't take long time," he added. The state-owned company also intends to open an office in Greece. The aim of establishing representative offices abroad is to penetrate the international market. The group has already opened its offices in Georgia and Romania. Besides, SOCAR purchased Kulevi Terminal on the Black Sea (Georgia) to expand oil shipments. The company president Rovnag Abdullayev says they have received favorable syndicated loans from the international banks for reconstruction works in the terminal. "We are deeply interested in Georgia's market. Kulevi Terminal will open our way to the Black Sea," says Abdullayev." "We plan to start operations at the terminal in the second quarter. The annual capacity of 10 million tons in the first phase, and reaching 20 million tons per year later," he underscores. The company will also build a refinery at Kulevi. The capacity of the refinery will be 5 million to 10 million tons of oil annually. Some 300 hectares will be allotted to the construction. Azerbaijan is supplying 75% of Georgia's oil imports. New refinery in Georgia will reduce transport expenses and cost price of oil products.
Azerbaijan negotiates with IDB over oil terminal
30 April 2007 [10:27] - Today.Az - Azersun Holding and Azerbaijan Investment Company are considering construction of a new oil terminal in Garadagh, near Baku. Azersun Holding President Abdulbari Gozel said the project is to be financed by the Islamic Development Bank. "We are carrying out technical and economic assessment of the project at present. Negotiations with the IDB are ongoing. The project will likely cost around $100 million," he added.
RussNeft to start oil development in Azerbaijan May 3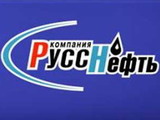 25 April 2007 - RIA Novosti - Russian oil company RussNeft will begin developing two oil field in Azerbaijan May 3, a Russian trade representative in the Caspian country said Wednesday. RussNeft and the State Oil Company of Azerbaijan (SOCAR) signed a production-sharing agreement last November to develop the Govsany-Zykh fields in the southern part of the Apsheron Peninsula, with recoverable reserves of 12 million metric tons (87 million barrels) of oil. "The company will start implementing the project to develop the Zykh-Govsany fields jointly with SOCAR," Yury Shchedrin said. RussNeft will invest $100-150 million in the project, 10-15% of which will be earmarked for environmental conservation programs and safety needs. The contract was signed for 25 years and may be extended for another five years. RussNeft is among Russia's top 10 crude producers. The vertically integrated company holds over 630 million metric tons (4.6 billion barrels) in recoverable reserves.
Wednesday, April 25, 2007
Kazakhstan studying Caspian-Europe pipe to bypass Russia

24 April 2007 - RIA Novosti - Kazakhstan's government could join a proposed gas pipeline linking the energy-rich Caspian to Europe, bypassing Russia, if the project meets the country's economic interests, the premier said. The $6-billion pipeline project is an extension of the South Caucasus pipeline, linking Azerbaijan, Georgia and Turkey, and is expected to run from Turkey to Austria via Bulgaria, Romania, and Hungary. The project would transport Central Asian gas to Europe and is seen by the European Union (EU) as a way of diversifying energy supplies away from Russia and reducing risks of disruption. "Any transportation of energy resources must be to the benefit of the nation and in a direction that suits our country, and this is where the government will start from," Karim Masimov said, adding that there was no politics involved in the issue. Kazakhstan is a traditional ally of Russia, one of the world's leading gas exporters, but the energy-rich Central Asian nation has been seeking to raise its own prestige as an energy supplier. The 2,113-mile pipeline across the Caspian is scheduled to be built beginning from 2008 and go on stream in 2011. The pipeline with an estimated annual capacity of 30 billion cubic meters is seen as a rival to Russian Gazprom's Blue Stream-2, which will use Turkey as a transit point for exports to the EU and have a capacity of 8 billion cubic meters and a commissioning date of 2012. Kazakhstan's Foreign Minister Marat Tazhin has said it was too early to negotiate the pipeline until the five littoral states - Iran, Kazakhstan, Russia, Turkmenistan and Azerbaijan - agree on the status of the Caspian Sea and its lucrative resources. Energy Minister Bakhtykozha Izmukhambetov said Kazakhstan would consider joining the pipeline only if it is economically beneficial and other Caspian nations agree to it. "We will develop the Caspian fields together with Russia..., which are expected to yield large amounts of gas, and if Russia joins the project to build the pipeline across the Caspian, it could bring vast profits," the minister said. EU Energy Commissioner Andris Piebalgs has also said the EU was prepared to support the project and accepted the possibility of Russia joining it too. Turkmenistan and Uzbekistan have also voiced their support for the project that would give them direct access to European markets, bypassing Russia. But Russian energy giant Gazprom [RTS: GAZP], which controls the pipelines pumping Central Asian gas to Europe, has said it has no interest in the project.
Greek, Turkish PMs to inaugurate new gas pipeline
23 April 2007 - Turkishpress.Com - The Turkish and Greek prime ministers will this summer inaugurate a new pipeline bringing natural gas from Azerbaijan and other Caucasus producers, the Greek development minister said on Saturday. "In July, prime ministers (Recep Tayyip) Erdogan and (Costas) Karamanlis (are expected) to inaugurate the flow of natural gas from Turkey to Greece," Dimitris Sioufas told state television NET from Ankara. Stretching over 300 kilometres (186 miles), the pipeline is due to start bringing natural gas to European countries this summer. It is subsequently planned to extend to southern Italy, with work on an additional stretch running 220 kilometres (140 miles) underwater and overland across Greek territory due to begin next year. A tripartite agreement between Greece, Turkey and Italy to extend the pipeline will be signed in the coming months, NET said. The pipeline extension is scheduled to be ready by 2011. Sioufas was in Ankara for talks with Turkish Energy Minister Hilmi Guler. "We discussed the connection of electricity networks between Turkey and Greece, an ongoing project that we hope will be completed on our side by January 2008," he said. Greece is seeking alternative electricity providers after the shutdown of two Bulgarian nuclear reactors at the power plant of Kozloduy sharply cut energy imports from that country. "We are still 35 percent lower in terms of reserves than last year, but this is not a cause for concern," the Greek energy ministry's general secretary Nikos Stefanou told NET.
Kazakhstan to diversify pipeline routes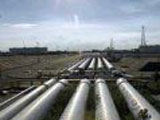 21 April 2007 - UPI News - Kazakhstan is urging Moscow not to take offense at its decision to diversify shipments of oil, most of which flow through Russia. "Many countries are interested in energy fuels from Kazakhstan, and this is also an issue of general policy, because the more pipelines the better for Kazakhstan's strategic interests," said Kazakh Senate Speaker Kasym-Shomart Tokayev. Kazakhstan exports 1.1 million barrels per day, the 14th-largest exporter in the world, according to the Energy Information Administration, the data arm of the U.S. Energy Department. While most of that is sent to market through pipelines via Russia, President Nursultan Nazarbayev intends to double its exports by 2015, RIA Novosti reports. To do so, Kazakhstan wants to not only ship through Russia, but other strategic economic avenues as well. "We are clear and consistent in our commitments to Moscow, which must not be violated," Tokayev said. "But at the same time we are sure that there must be an alternative in constructing pipelines." Aside from the Caspian Pipeline Consortium pipeline, which transits through Russia, Kazakhstan also ships to China via the Atasu-Alashankou pipeline. It is also a partner in the Baku-Tblisi-Ceyhan pipeline -- Azerbaijan to Georgia to Turkey -- and the Odessa-Brody pipeline from Ukraine to Poland.
Turcas and SOCAR to build a petroleum refinery in Ceyhan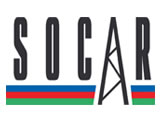 20 April 2007 - The New Anatolian - State Oil Company of Azerbaijan (SOCAR) and Turkey's Turcas which agreed to set up a joint venture for oil exploration, refining and marketing submitted an offer to Energy Market Regulatory Authority (EPDK) to build a petroleum refinery in Ceyhan. Anatolia news agency reported that the Turcas and SOCAR joint venture stated they intend to make an investment exceeding $4 billion in the region. Turcas and SOCAR will be in charge of building a refinery in Ceyhan with 10-20 million tones per year capacity and marketing natural gas pumped from Azerbaijan's Shah Deniz region to Turkey and Europe. The feasibility report envisages concluding the investment in approximately 6 years. Previously Petrol Ofisi Corp. (POAS) and Cal?k-Indian Oil Company consortium applied to EPDK and submitted offers to build a refinery at the same location.Thus the number of groups eager to build a refinery in Ceyhan increases everyday, while the total planned capacity is around 35 million tons of crude oil. Also planned investments reach 11 billion dollars. On the other hand, EPDK has not reached a decision over the offers yet, Anatolia underlined. In early December, 2006 the President of SOCAR Rovnag Abdullayev, and the Chairman of the Management Board Turcas, Erdal Aksoy, signed an agreement on establishment of Turcas and SOCAR Energy Joint Venture to ensure investment-making in oil processing in Ceyhan Port, gas import and wholesale selling of gas and Turcas's participation in the exploration activities on the Caspian. According to the agreement SOCAR will hold a 51 percent stake in the firm's petroleum and refinery business with the rest to be held by Turcas, which will also hold 51 percent stake in the company's natural gas business.
47 tankers carrying Azeri oil sail for world market, Q1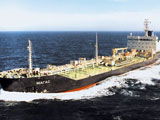 20 April 2007 - APA News - 47 tankers took on board 5.549 million tonnes of Azeri Light crude oil at the Ceyhan Port in Turkey during the first quarter of 2007. Alone in March 15 tankers carried 2.179 million tonnes of oil to the world market. A total of 13.219 million tonnes of crude oil have been exported aboard tankers since the first tanker lifting at Ceyhan last June. The current export rate through Baku-Tbilisi-Ceyhan pipeline runs on schedule and the pipeline is in the throughput capacity of delivering one million barrels per day (approx. 50 million tonnes per year). At its peak the Ceyhan Terminal is able to fill 1-2 tankers per day. While the pipeline initially carried only Azeri-Chirag-Guneshli oil, the first delivery of Shah Deniz condensate into the line was made in January this year and it is expected that future volumes will include those from across the Caspian, possibly commencing by the end of 2007.
S. Korean consortium aims to start oil exploration in Azerbaijan by September

20 April 2007 - Today.Az - A South Korean consortium led by the Korea National Oil Corporation (KNOC) is pushing to win the right to search for oil at Azerbaijan's Inam field by September, the Korean government said Friday. The Ministry of Commerce, Industry and Energy said it wants to seal a formal deal with the Central Asian country within the first half so exploration, including exploratory drilling, can take place during the third quarter.
Azerbaijan sends preliminary paperwork to Turkey for Ceyhan Refinery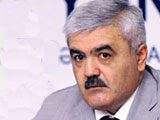 18 April 2007 - APA News - Azerbaijan has prepared the preliminary paperwork for construction of an oil refinery in Ceyhan Port, said Rovnag Abdullayev, the President of the State Oil Company of Azerbaijan (SOCAR). He said it will take about 6-8 months to get a license from Turkey's relative bodies or construction of the refinery. Azerbaijan intends to refine more then 10mln tons of its profit oil [coming from joint projects] at Ceyhan Port and sell in Turkey and Europe. Rovnag Abdullayev also said that SOCAR will take part in privatization of Turkey's state-run petrochemicals giant Petkim,
Tuesday, April 24, 2007
Azerbaijan's share of the world's hydrocarbons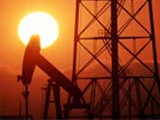 17 April 2007 [17:50] - The Messenger - Petroleum Intelligence Weekly has published its annual ranking of the world's 50 largest oil companies, this ranking is the leading source of comparative performance assessments on all the world's oil companies. While Saudi Aramco and Exxon Mobil remain entrenched at the top, mergers, acquisitions and state consolidation continue to make their mark. The report states that 20 countries of the world own 94 percent of the hydrocarbon supply, totalling 1.4 trillion barrels. Out of that amount Azeri hydrocarbon supply totals 14 billion barrels (more than 1.9 billion tons). According to the supply amount countries including Angola (16 billion barrels), Mexico (20 billion barrels) and China (24 billion barrels) outrun Azerbaijan. Saudi Arabia remains in first place with 289 billion barrels and in last place is Norway with 10 billion barrels reports the news agency Regnum. Russian gas giant Gazprom, aided by its acquisition of Sibneft, continues to forge ahead, gaining nine places to reach number 15 on its march toward the top ten. Similarly, new assets helped Rosneft advance five spots to number 26. The US again dominates this year's rankings with ten firms in the Top 50, followed by Russia with six and the UK and Canada with three each.
Reopening Baku-Supsa pipeline not high priority-BP
17 April 2007 [11:06] - Reuters - BP Plc said on Monday reopening an oil pipeline from Baku to Supsa in Georgia, shut since last year, is not a high priority as supply rises from another export route. The Baku-Supsa line closed on Oct. 21 for 10 days for maintenance, but BP has said "anomalies" have forced its indefinite closure. It is boosting oil output at another line, Baku-Tbilisi-Ceyhan. "Routine checks discovered the anomalies," said BP spokesman Toby Odone. "We're working on the pipeline to make sure it lasts a long time. It's not a high priority because we've got BTC." BP has had problems on its Alaska pipelien, where corrosion caused a spill at the Prudhoe Bay oil field in 2006, putting its safety record under scrutiny. There was no leak at Baku-Supsa. The Baku-Supsa pipeline has been operating since 1999. Supply is rising to a record amount from the BP-led Baku-Ceyhan pipeline, which launched last year. BP is scheduled to pump about 703,000 bpd through BTC in May, the highest yet, according to trading sources. Earlier this month, BP said BTC had hit its full capacity of 1 million bpd.
BP intends to expand relationship with Azerbaijan

17 April 2007 [09:40] - Today.Az - SOCAR's President Rovneg Abdullayev received Managing Director of BP Group and Chief Executive of Exploration and Production Andrew Inglis and President of BP-Azerbaijan Bill Schrader. SOCAR told APA-Economics that Abdullayev noted that BP plays great role in the development of Oil-gas industry in Azerbaijan and has turned to main partner of SOCAR. Saying he is for deepening of the relations between the two parties, SOCAR president has talked about the projects implemented together with BP-Azerbaijan. Andrew Inglis noted that productive cooperation of SOCAR and BP-Azerbaijan in the frame of the joint projects stressing those businesslike relations with Azerbaijan is of great importance for BP. The official noted that the company's London based leadership considers these relations should be continued and expanded.
BTC throughput capacity to reach 1.6 million barrels a day
24 Apr 2007 - APA News - BTC Co. has been studying the prospects of expansion of the Baku-Tbilisi-Ceyhan daily throughput capacity to 1.2 million barrels from the current operating capacity of one million barrels a day. "We are testing the possibility of expansion through antiwear additive. The daily capacity may reach 1.4 million to 1.6 million barrels in future," said BTC co commercial director David Wolfe. He added that those who are not the shareholder of the BTC Co. can also take part in expansion project. It is slated to bring the daily capacity of the pipeline to no less than 1.2 million barrels by 2010 to be able to transport Azeri-Chirag-Guneshli oil and Shah Deniz condensate. The current export rate through Baku-Tbilisi-Ceyhan pipeline runs on schedule and the pipeline is in the throughput capacity of delivering one million barrels per day (approx. 50 million tonnes per year). The design capacity of one million barrels of oil per day has been reached after the final commissioning of all pump station to run on gas. The Ceyhan Terminal is able to fill 1-2 tankers per day. While the pipeline initially carried only Azeri-Chirag-Guneshli oil, the first delivery of Shah Deniz condensate into the line was made in January this year and it is expected that future volumes will include those from across the Caspian, possibly commencing by the end of 2007. BTC Co. shareholders are BP (30.1%), AzBTC (25.00%), Chevron (8.90%), Statoil (8.71%), TPAO (6.53%), ENI (5.00%), Total (5.00%), Itochu (3.40%), INPEX (2.50%), ConocoPhillips (2.50%) and Hess (2.36%).
US keen in economic relations with Azerbaijan
24 Apr 2007 - APA News - "US is keen in cooperation with Azerbaijan, Kazakhstan, Turkmenistan, Iraq, which are transporting natural gas from the region via Turkey to Europe", US Embassy in Turkey stated in support to the ceremony of foundation laying of Samsun-Ceyhan pipeline, APA's Turkey bureau reports. Success of realization of targeted aims and profitability of the project was wished in the statement. "Following, the successful implementation of Baku-Tbilisi-Ceyhan project we support Ceyhan's development as the centre of energy," the embassy's statement reads.
BTC Co shareholders stop pumping oil via Baku Novorossiysk and Baku-Batumi routes
19 Apr 2007 17:04 APA News - The shareholders of Azerbaijan International Operating Company (AIOC), which have a stake in BTC Co, have reoriented all the oil coming from Azeri-Chirag-Guneshli through Baku-Tbilisi-Ceyhan pipeline. All theses companies have stopped exporting oil via Baku Novorossiysk and Baku-Batumi routes. BP-Azerbaijan press officer Tamam Bayatly told APA-Economics that the BTC Co. owners are pumping between 600,000 and 700,000 barrels of crude oil per day via Baku-Tbilisi-Ceyhan pipeline. "They built the BTC pipeline to deliver their exports to the world market. Now, they decided to halt exports through Baku Novorossiysk and Baku-Batumi routes," she added. BTC Co. shareholders are BP (30.1%), AzBTC (25.00%), Chevron (8.90%), Statoil (8.71%), TPAO (6.53%), ENI (5.00%), Total (5.00%), Itochu (3.40%), INPEX (2.50%), ConocoPhillips (2.50%) and Hess (2.36%). AIOC shareholders include BP (34.1%), Chevron (10.2%), SOCAR (10%), INPEX (10%), Statoil (8.6%), ExxonMobil (8%), TPAO (6.8%), Devon (5.6%), Itochu (3.95) and Hess (2.7%).
Seoul gets talking over Inam
20 April 2007 - Upstream OnLine - South Korea's Energy Ministry held a working-level meeting with Azeri counterparts to speed up its deal to take a stake in the BP-operated Inam field, in Azerbaijan's Caspian Sea play. South Korea reached a preliminary deal with Azerbaijan for a 20% stake in the field, but a final decision has yet to be made. "The deal is almost at its end, and will likely be sealed by the first half of the year," Lee Seung-woo, director of oil and gas development division at the Energy Ministry, told Reuters after the meeting in Seoul. Inam, which estimated to hold about 2 billion barrels of probable oil reserves, is half-owned by Azerbaijan's national oil player Socar. BP and Shell have an equal split of the remainder. Previously, the ministry said it was eyeing stakes owned by Socar, but Lee declined to confirm the seller. Socar, BP and Shell signed a $4 billion production sharing deal on Inam in 1998, estimating then that the deposit held about 730 million barrels of oil.
Monday, April 23, 2007
AGR answers Caspian call
18 April 2007 - Upstream OnLine - Norwegian services player Ability Group (AGR Group) is heading to the Inam field, in the Azeri sector of the Caspian Sea, after landing a Nkr10 million ($1.67 million) riserless mud recovery equipment and services job with BP. The assignment is AGR Group's first RMR contract on the Inam field.
Turkmen president invites AFK Sistema to Caspian offshore areas
ASHGABAT, April 20 (RIA Novosti) - Turkmen leader Gurbanguly Berdymukhammedov has met with the management of Russia's leading consumer services firm AFK Sistema, Turkmen television said Friday. At a Thursday meeting with Vladimir Yevtushenkov and Alexander Goncharuk, co-owners of AFK Sistema, and Leonid Melamed, president of the corporation's Mobile TeleSystems [RTS: MTSS], Berdymukhammedov invited AFK Sistema to develop oil and gas deposits at offshore sites on the Caspian Sea. "We have reached agreement on a range of issues," Yevtushenko said. "As soon as we return to Moscow we will discuss the visit's results and develop a program for closer cooperation." Following the meeting, Yevtushenkov said his corporation had experience in oil production and refining, and controlled 21% of ANK Bashneft, 22% of Ufimsky NPZ, 26% of Novoil, 18% of Ufaneftekhim, 22% of Ufaorgsintez and 17% of Bashnefteproduct. He said AFK Sistema was ready to cooperate with Turkmenistan, which has a population of about 6.6 million, in the telecom and IT spheres. The businessman said his company could also help the republic develop consumer electronics, engineering constructions, trading centers, hotels, clinics, schools and housing. Berdymukhammedov became president February 11 in the first multiple-candidate elections in Turkmen history, which followed the death of Saparmurat Niyazov December 21, 2006, carrying nearly 90% of the vote. He will make his first visit to Russia April 23-24.
Friday, April 13, 2007
BP cranks Baku-Ceyhan capacity
05 April 2007 - Upstream onLine - The BP-run Baku-Ceyhan pipeline from Azerbaijan to Turkey has reached its full capacity of 1 million barrels per day, the British company said today. The 1,768-kilometre pipeline, launched in May 2006, pumps crude from the giant Azeri-Chirag-Guneshli (ACG) group of fields in the Caspian Sea to the Turkish Mediterranean port of Ceyhan. "The Baku-Tbilisi-Ceyhan pipeline is now capable of transporting the projected one million bpd of oil after we put all the pumping stations into operation," BP Azerbaijan said in a statement, Reuters reported. The pipeline ships about 700,000 bpd of oil from the "ACG" fields with reserves estimated at 6.59 billion barrels of oil. Only two of the ACG fields, Azeri and Chirag, are already producing. Guneshli will be put on stream later this decade. To ensure transportation of the field's increasing output, BP is planning to expand the Baku-Ceyhan pipeline's capacity to 1.6 million bpd. TengizChevroil, a group led by US supermajor Chevron, is also going to use the pipeline to ship Kazakh crude to Turkey. But a Baku-Ceyhan official in Azerbaijan said earlier this week the first shipments would be delayed by at least six months to early 2008. He said the group, which also includes ExxonMobil, Kazakh state oil company KazMunaiGas, a BP-led joint venture and Russia's Lukoil, needed more time to clear "many issues" by the venture participants. He gave no details.
Sunday, April 08, 2007
Bryza hails President Aliyev's "dramatic decision" not to buy Russian
31 March 2007 [11:38] - Today.Az – U.S. Deputy Assistant Secretary of State Matthew Bryza encouraged the Georgian leadership on March 30 to engage in diplomacy with Turkmenistan to help develop trans-Caspian pipeline projects to deliver Central Asian gas to the European markets via the Caucasus and Turkey. Speaking at a news conference after talks with Parliamentary Chairperson Nino Burjanadze in Tbilisi, Bryza hailed Azerbaijani President Ilham Aliyev's "dramatic decision" not to buy Russian gas this winter, but to depend on its own resources and also to export some of its gas to Georgia. "President Saakashvili's personal diplomacy with President Aliyev was crucial for making this happen," Bryza said. "And now the diplomacy of Madam Speaker [Nino Burjanadze] and President Saakashvili with distant neighbors in Turkmenistan promises to open up a whole new generation of large-scale, huge in fact, gas infrastructure projects that will help Azerbaijan, Georgia, Turkey and the rest of south east Europe to diversify its energy supplies," he added. Civil Georgia
Contact me: