Saturday, December 30, 2006
Azerbaijan refuses to buy Russian gas in 2007
30 December 2006 - Today.Az - Azerbaijan has refused to buy Russian gas in 2007, Russian gas giant Gazprom spokesman Sergei Kupriyanov said on the Ekho Moskvy radio on Friday. Baku becomes a major gas producer and exporter. Thus "the termination of Russian gas deliveries to Azerbaijan was only a matter of time," Kupriyanov said. "We planned the deliveries of 1.5 billion cubic meters of gas instead of the previous 4.5 billion," he said. Gazprom planned to raise the gas price from 110 dollars per 1,000 cubic meters to 235 dollars from 2007. However, Azerbaijan said the price is too high to accept. Azerbaijani President Ilham Aliyev told Russian media on Monday that because Russian gas price offer is two times higher than before, Azerbaijan may stop buying gas from Russia. According to Aliyev, Azerbaijan's abundant petroleum reserves may partly substitute the need for gas, and then reduces gas import. On the other hand, Azerbaijan will supply Georgia with one million cubic meters of natural gas daily in 2007, Georgian Prime Minister Zurab Nogaideli said on Monday.
Gazprom Office in Baku to be closed
29 December 2006 - Today.Az - Russian gas monopoly Gazprom's Office in Baku may shut down in the nearest future. As APA reports, Azerbaijan has not answered to Gazprom at the negations on natural gas imports to Azerbaijan in 2007 and this is a sign of refusal of Russian gas supplies. "The Government's giving no answer to Gazprom is a proof; there is no need for official refusal letter. In this case Gazprom doesn't need an office in Baku," the Office said.
Azerbaijan annuls cooperation agreement with ConocoPhilips on developing oil field
27 December 2006 - The Associated Press - Azerbaijan's state oil company has annulled a cooperation agreement with ConocoPhilips on developing the Umid-Babek oil field, a senior official said Wednesday. Vagif Aliyev, head of the foreign investment department at SOCAR, said the memorandum of understanding with ConocoPhilips, which was signed in February 2005 and was to last two years, had not allowed SOCAR to begin developing the field on its own and has been annulled. He also said that SOCAR had received expressions of interest in the field from Total, BP PLC and Lukoil but that it had not taken any final decisions on how to proceed. According to preliminary estimates, the Caspian sea field holds around 200 million to 300 million metric tons of oil reserves. That is equivalent to around 1.5-2.2 billion barrels.
Shah Deniz gas field halts production after leak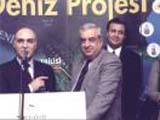 26 December 2006 - Reuters - Azerbaijan's Shah Deniz gas field has halted production due to a leak, just after its launch by operators BP and Norway's Statoil this month, Azeri state energy firm SOCAR said on Tuesday. The news is second major setback for BP in less than a month as the oil major was forced to cut oil production at the neighbouring Caspian Sea oilfield due to technical problems and reduce exports via a giant pipeline to Turkey. The gas production halt will also further reduce chances of neighbouring Georgia getting bigger volumes from Baku to cut its reliance on Russia amid a gas pricing dispute with Moscow. "A gas leak was discovered on the first well ... Works have been halted and the problem is not expected to be resolved before January," SOCAR's first deputy head Khoshbakht Yusifzade told reporters. Yusifzade said the leak had been discovered last week some 800-900 metres deep in the well, which was expected to pump 5.6 million cubic metres of gas and 2,500 tonnes of gas condensate a day. It was the only well pumping gas from the field while more wells should be drilled next year. SOCAR's President Rovnag Abdullayev said the first well should resume production within 20 days or around mid-January. Industry sources have said BP cut oil output by around 40 percent to 400,000 barrels a day at the giant Caspian Sea oil deposit called Azeri-Chirag-Guneshli or ACG, from early December. BP said production was back to normal on Dec. 13. The $4 billion Shah Deniz project began commercial production on Dec. 15. The bulk of gas is due to be exported to Turkey via the territory of Georgia. Georgia needs 1.8 bcm a year and has been previously buying all of it from Russia at $110 per 1,000 cubic metres. Last week, Russia's gas monopoly Gazprom said Georgia agreed to buy 1.1 bcm of gas in 2007 at $235. Georgia hopes to buy gas from Azerbaijan at $110-$120 from the second half of 2007 if Azerbaijan and Turkey agree to allow it to bite into their quotas. Turkey confirmed on Tuesday the deal has yet to be reached to cede a part of its Shah Deniz quota to Georgia and it might be concluded in one week. It said it expected to receive its first gas from the field in July. Shah Deniz has reserves of over 1 trillion cubic metres of gas and is expected to produce 8.4 billion cubic metres of gas after it reaches peak production by 2009. Shah Deniz's other shareholders are Russia's LUKOIL, France's Total and the Iranian and Turkish state oil firms.
Iran in talks with LUKoil over North Azadegan Oilfield
26 December 2006 - Today.Az - National Iranian Oil Company (NIOC) is currently in talks with Russia's LUKoil on the development of North Azadegan Oilfield, southern Iran, NIOC managing director said. "Negotiations are at primary stage. We are exchanging data on the field, and we hope LUKoil will offer the Master Development Plan (MDP) in future," Iranian Students News Agency (ISNA) quoted Gholam-Hossein Nozari as saying. Elsewhere, the official said that gas injection into oilfields declines during cold season because of growing domestic consumption. "The decline in gas injection will hopefully be alleviated once phases 6-8 at the South Pars (SP) gas field come on stream," he added. Oil Minister Kazem Vaziri-Hamaneh already told ISNA that the gas produced from SP phases 6-8 would be used for injection into the oilfields. According to the managing director of the Pars Oil and Gas Company (POGC), Akbar Torkan, phases 6-8 are to become operational by the end of the current Iranian year, falling on March 20, 2007.
Wednesday, December 13, 2006
65 tankers sail to world market from Ceyhan
13 December 2006 [12:53] - Today.Az - 65 tankers carrying 47m barrels of oil sailed from Ceyhan Port to the world market. Turkey gained USD 300m from taxes and customs tariffs. Besides, there is 3.16m barrels of oil left in the reserve in the Ceyhan Terminal. The grant project of the millennium- Baku-Tbilisi-Ceyhan (BTC) Oil Pipeline- is delivering Azeri oil to Ceyhan, a Turkish port via Georgia and Turkey, APA reports.
SOCAR intends to build refinery in Ceyhan Port
11 December 2006 [15:20] - Today.Az - SOCAR & Turccas Joint Venture, established by the SOCAR (51%) and Turccas Petrol (49%), will be engaged in selling Azeri gas in Turkey, SOCAR President Rovnag Abdullayev said. He said a letter will be sent to Turkey this week to inform about the intention that the joint venture wants to build an oil refinery in Ceyhan Port. After the agreement is reached, technical and economic assessment of the project will be carried out, APA reports. "We concluded that Azerbaijani oil will outweigh in the Ceyhan Port in 2009. We will sell refined oil to Turkey, Iran, Syria and the Mediterranean basin states," he said
Thursday, December 07, 2006
Azerbaijan to Stop Oil Exports Through Russia on Jan 1
06.12.2006 - MosNews - On Wednesday, Dec. 6, Azeri Prime Minister Artur Rasulzade announced that Azerbaijan will stop the exports of Azeri oil through the Baku-Novorossiysk pipeline starting on Jan. 1, 2007. The news came as a bad surprise to Russia Prime Minister Mikhail Fradkov, who was in Baku to discuss the tense relations over the gas supply issue and to attend events organized for the "Year of Russia in Azerbaijan". MosNews has reported several days ago that Azeri authorities mentioned the possibility of halting the oil exports through the Russian link in retaliation for Gazprom's decision to double the price of natural gas it sells to Azerbaijan. At that point it was said that Azerbaijan would need all of its oil to fuel the power stations that will fail to receive Russian gas. But on Wednesday Rasulazade offered another explanation for the decision. During his meeting with Fradkov, the Azeri Prime Minister said that the British Petroleum's work on the Shah-Deniz gas reserves would be completed by Jan. 1, making Azerbaijan independent of Russian gas supplies, as the country will have enough of its own. Speaking about stopping the flow of Azeri oil pumped through Novorossiysk, Rasulzade said it was not a matter of further discussion and made a comparison: "We have no demands for a discount in the customs tax but the Russian oil company Transneft wants $15 a ton as tax, while Georgia takes only $3 a ton for the Azeri oil that reaches the city of Supsa."
Azeri on Trial for Spying for Russia
Dec. 7, 2006 Kommersant -
The trial of Petr Modzhalov began yesterday in the Court for Especially Serious Crimes in Baku, Azerbaijan, yesterday. Modzhalov, a reserve officer, faces 15 years in prison on charges of treason and spying for Russia. He was arrested on October 18 of this year. According to investigators, he became an operative for Valery Lastovsky, an officer in the Russian military's Main Intelligence Department (Russian abbreviation GRU), in 1997 and passed him information on the structure of the Azeri general staff, on the country's battle readiness and its military hardware for payments of $300-400 per report.
Russian agents have been arrested in Azerbaijan before. In August 1995, at a tense period in Russian-Azeri relations, Russian officers led by Col. Vyacheslav Abbasov of Russian Army intelligence were arrested in Baku. They were held for about three months without much attention being drawn to their plight by either side and the problem was solved largely behind the scenes. One officer was released. Abbasov and two other officers were charged with lesser crimes and eventually released. Abbasov now lives in Ukraine. In April 2002, the Azeri Ministry of National Security arrested five employees of the Russian
FSB
in Baku. Tow of them were arrested near the presidential palace. They immediately divulged the names of three more agents, who were then arrested in the Europa Hotel. The media reported that they were in Azerbaijan to watch Chechen militants living there. Their claims that they were searching for private security employment were unconvincing, since that type of work paid ten times more in Moscow than Baku at the time. The agents were turned over to Russia immediately and their arrests did not become an international incident. In February 2003, the closed trial of three Azeri citizens was held. Seyar Akhundov, a driver; his unemployed brother Mubariz, and Sergey Namazov, a commuter train conductor, were charged with treason and working for the GRU. Seyar Akhundov and Namazov were sentenced to 11 years in prison, and Mubariz Akhundov received 10 years. The "leniency" of the sentences was due to the convicts' service in the Kharabakh war and their penitence. According to the investigation, the three men did intelligence work for the Caspian Fleet, which was located in Baku in the 1980s. In 1993, they were contacted again and provided the GRU with information on the political situation in the country, on military facilities, locations of military units, schedules for trains carrying oil, the locations of Afghan and Chechen militants in the country and so on. In spite of the fact that all three had Russian passports as well as Azeri, the Russian
Defense Ministry
stated that they had no connection with the GRU or the ministry as a whole. Several years ago, Namik Abbasov, who was Azeri minister of national security at the time, stated that there were 295 Russian agents active in his country in the last ten years.
A Sea of Oil
5 December 2006 - Kommersant -// The fight for Caspian oil will be one of the biggest issues in international politics in years to come.
Although Russian Prime Minister Mikhail Fradkov declared when he arrived in Baku that Russia and Azerbaijan should develop cooperation in all aspects, and not in energy alone, energy issues nonetheless are the most important for both sides today. And the issues are complex. Azerbaijan announced before Fradkov's visit that it may reroute oil that would have been transported across Russia to the Baku-Tbilisi-Ceyhan pipeline. Not long before that, Azeri President Ilham Aliyev visited Brussels.
Kazakh President Noursultan Nazarbaev also made a European tour not long ago. It was followed by a visit by an EU delegation to Astana to reach agreement on energy cooperation. The Europeans want to set up a system of information exchange and assess the volume of long-range investment needed in the production and transit infrastructure in Kazakhstan.
Relations between the Caspian countries and Russia and
European Union
will probably be one of the biggest intrigues in international politics in the near future. There are all the signs of a second wave of "Caspian fever" beginning. "World energy security is directly tied to the reserves and the perspectives for production of the Caspian states," a UN report published last week reads.
The first wave of Caspian fever struck the world in the 1990s, when the Caspian states, only just appearing on the map, declared the colossal oil reserves under the Caspian Sea. Later several investment projects fell through because of inadequate assessment of the region's resources and international corporations temporarily cooled relations with the region as oil prices fell and the division of Caspian between Azerbaijan, Iran, Kazakhstan, Russia and Turkmenistan seemed far off in the future. The status of the Caspian has still not been finally determined, but significant progress has been made and that problem is no longer an obstacle to the development of several large deposits. Meanwhile, fuel prices have jumped dramatically, and with them in long-term investment in new deposits.
Proven reserves of Caspian oil and natural gas amount to 4 percent of the world supply. International Energy Agency analysts estimate that the regions oil reserves may prove to be 20 percent of the world supply. Experts in a U.S. Congress research group note that, besides the size of the reserves, Caspian oil has the advantage of being cheap to produce. Only Middle Eastern oil can compare to it in both those respects.
Political risks in the region are significant, but lower than in Africa. It is also important that only one of the Caspian states, Iran is an
OPEC
member. That is also positive difference between the Caspian and African countries, which either belong to OPEC (Nigeria and Algeria) or intend to join it (Angola has just announced its desire to be part of OPEC, and Sudan is expected to). "The countries that plan to join OPEC have an anti-Western policy, and the price for their resources is the most important of all for them," noted Sergey Chernavsky, who heads a laboratory at the
Russian Academy of Sciences
Central Economics and Mathematics Institute. "But the Caspian states are counting on partnership with the West. Several of them plan to join the
WTO
in the near future." The Caspian may soon become the world's largest oil non-OPEC producing region.
Four major forces are gathering around the Caspian. They are China, Russia, the United States and the EU. Several factors limit investors at present: Russia's control over most of the delivery routes to Europe, an undeveloped infrastructure and political risks that are mainly connected with the Iranian nuclear program. Heritage Foundation analysts say that none of them will be able to dominate the region single-handedly. The U.S., Europe, Russia and China will have to learn to cooperate to attain security and the necessary ace of development of the rich resources. Russia is unlikely to succeed in preventing diversification of supply channels for Caspian oil. That means that its relations with Kazakhstan and Azerbaijan will have to take on a substantially different nature from earlier days.
Iran is the most serious problem. But experts are expressing guarded optimism. "There is an influential group of technocrats in Iran that want to see Iran not a nuclear power, but a great energy power," says Alexey Malashenko of the Moscow Carnegie Foundation. Malashenko thinks that the current problems with Iran are but temporary distractions from one of the most important energy projects for decades to come – the energy flow from the Caspian region to Europe and China.
Monday, December 04, 2006
Georgia asks Baku for gas
30 November 2006 - Upstream onLine - Georgia's Prime Minister Zurab Nogaideli has asked Azerbaijan and Turkey to cover most of Georgia's gas needs in 2007 to replace more expensive Russian supplies amid strained political relations with Moscow. "Georgia wants, and I think it will get, some 1.5 billion cubic metres of gas from the Shah Deniz field in 2007. I can quote Azeri President Ilham Aliyev, who told me during our talks that Azerbaijan will help Georgia sort out its problems," Nogaideli told Reuters. Georgia had been due to get a much smaller share of Shah Deniz volumes next year when BP and Statoil launch the giant field in the Azeri sector of the Caspian Sea and a pipeline to Turkey, via Georgia. Azerbaijan and Turkey are set to be the main buyers of the gas but they could in theory cede some volumes to Georgia, which consumes about 1.7 Bcm of Russian gas per year.
Azerbaijan Pumps Oil from Russia
12–04–2006 Kommersant –
by Dmitry Butrin; Rafael Mustafaev, Baku
//
Ilkham Aliev is ready to stop the transit to Novorossiysk
Azerbaijan might decline Transneft's services
On the eve of Russian Premier Mikhail Fradkov's visit to Baku, Azerbaijani authorities made it clear they are ready for a long-term conflict with Moscow. Azerbaijan's President Ilkham Aliev ordered to his Cabinet to estimate the possibility of declining oil transit through Russia's territory in response to the growth in prices of Gazprom's gas supplies to Azerbaijan. The attempt to include Baku into the anti-Georgian bloc might be considered as failed. Russia's energy policy in Transcaucasia is gradually going beyond discussing gas supply prices. On the eve of the visit of Russian Prime Minister Mikhail Fradkov to Baku which begins today, Azerbaijani President Ilkham Aliev ordered to his Cabinet to consider reducing or cease of pumping oil through the Baku-Novorossiysk pipeline. He made this decision after the conference of December 1 which discussed preparing Azerbaijan's economy for the upcoming winter. The country's main energy problems are the growth of price on natural gas supplied by Gazprom to Azerbaijan (up to $230 for 1,000 cubic meters since January), the planned reduction of gas supplies to the country, and the possible cut in electricity supply from Russia. A week before Aliev's visit to Moscow, and then to Brussels, scheduled for November 10, the Kremlin saw its chief ally in Azerbaijani president for the upcoming "natural gas special operation" against Georgia. Gazprom supplies gas to Transcaucasia, including Armenia and Azerbaijan (around 4.5 billion cubic meters), via Georgian territory. Gazprom insists that Georgia and Azerbaijan should pay $230 for 1,000 cubic meters beginning from January 2007. Now the countries buy gas for about $110 for 1,000 cubic meters. Tbilisi takes it as the consequence of Russia's intention to destabilize Georgia's economy. The question about how to compensate to Azerbaijan the price growth of gas pumped via Georgian territory was to be discussed in Moscow on November 10. However, Ilkham Aliev preferred to visit Brussels first, where he held talks with EU and NATO top officials, and only then to go to Moscow – to make Vladimir Putin face the fact that Azerbaijan intends to lead a Kremlin-independent foreign policy. Yet, it turned out yesterday that Baku is ready for a long-term, and not just tactic, cooldown in relations with Moscow – concerning the Baku-Novorossiysk pipeline. Baku wants to cease pumping oil through it, but almost all Azerbaijan's transit of oil on Russia's territory is going via that pipeline. According to Azerbaijan's State Oil Company, the country transported over 4.1 million of metric tons of oil through Russia in 2005. Nearly 3.6 million of metric tons of oil was pumped through the Baku-Novorossiysk pipeline in January-September 2006. The main competitor of the Transneft-controlled pipeline is the Baku-Tbilisi-Ceyhan Pipeline (BTC). Ilkham Aliev directly linked the possible reduction in oil pumping via the Baku-Novorossiysk pipeline (which will deprive Transneft of about $25 million of transit revenues a year) to the situation around gas supplies. He explained that Gazprom's gas price growth and the expected cut in gas supplies to Azerbaijan require extra supplies of oil products for generating electricity. Baku admits it will follow the same strategy in winter 2006-07 as last winter: together with Iran, it will carry out exchange operations for supplying gas and electricity to Georgia in case of lack in its energy system, and import electricity from Georgia during peak periods in Baku. Last winter, this arrangement secured stable work for Georgia's energy system during the breakdowns on export electric lines and gas pipelines on Russia-Georgia border, which Tbilisi thinks Russia organized. Back in summer 2006, Azerbaijani government was inclined to support Russia. Thus, head of the Center for Oil Research of Azerbaijan Ilkham Shaban said that the country's government then asked BP to postpone the beginning of gas extraction from Shah-Deniz deposit from September 2007 to later time. Now, the opening of Shah-Deniz might occur earlier. Although Aliev said the final decision on the Baku-Novorossiysk pipeline will be made in "a week or two", the issue must have already been decided upon. Azerbaijan's refusal to pump oil via Russia has sense only if it is a strategic decision for the several upcoming years, which will deprive Transneft of growth in oil pumping, for the sake of the BTC. So, Fradkov's visit to Azerbaijan cannot be easy in this situation. It will rather mark the beginning of the long-term chilldown in Baku-Moscow relations, regardless of whether the anti-Georgian "natural gas special operation" takes place.
Azerbaijan to ramp up gas supplies to Georgia
RBC, 01.12.2006, Tbilisi 09:34:34. – It is understood that starting from 2007 Azerbaijan will supply around 1.5bn cubic meters of gas to Georgia. Such a preliminary agreement resulted from talks between Georgia's Prime Minister Zurab Nogaideli and Azerbaijani President Ilkham Aliyev held in Baku yesterday. The talks were also attended by energy ministers of the two countries. Nogaideli said that on December 6-8, another round of negotiations would be held to specify the exact amount of gas to be delivered and terms of re-distributing gas from the Azerbaijani Shah-Deniz field. Azerbaijani Minister of Industry and Energy Natik Aliyev added that his country would help Georgia with its internal reserves despite the difficulties it faces. He elaborated that under the existing contract, gas supplied to Georgia from Shah-Deniz was mainly consumed by Turkey. The gas price for Georgia had been set at USD58 per thousand cubic meters, but the cost of extra gas to be supplied would be lower.
Contact me: