Tuesday, July 25, 2006
Georgia, Azerbaijan to Become Energy Independent from Russia
24.07.2006 10:35 - [Neftegaz.ru] - Georgia and Azerbaijan, two former Soviet republics by 2012 could provide themselves with gas independently form Russia, energy giant BP said. Natural gas flow from the massive Caspian Sea Shah Deniz field "should be sufficient to satisfy the domestic needs of Azerbaijan and Georgia" from 2012, David Woodward, the CEO of BP in Azerbaijan, told journalists. Georgia in particular has accused Russia of using Tbilisi's dependence on Russian gas as a tool for political pressure and has set diversification to other suppliers as a top government priority. The company and a consortium of Western investors also plan to complete the South Caucasus gas pipeline (SCP) that will traverse Azerbaijan and Georgia to terminate in Turkey, by the end of September. Woodward said continued development of the Shah Deniz would allow Georgia and Azerbaijan to wean themselves off of Russian gas early in the next decade through the SCP project, if they choose to do so. BP also announced it would transfer a total of $2.9 billion in oil profits and taxes to Azerbaijan by the end of 2006 to pay for the exploitation of the energy-rich republic's oil reserves. Woodward added that 2006 was projected to be a record breaking year for oil production in Azerbaijan, which became the world's first industrialized oil producer in the late 19th century. "This year the total production from the country will exceed 30 million tons, which is more than in any year in the country's long history," Woodward said.
Wednesday, July 19, 2006
Azerbaijan's 1H06 budget surplus $220 mln, inflation 5.6%
BAKU, July 19 (RIA Novosti) - Azerbaijan's budget surplus totaled about $220 million in January-June 2006 and inflation stood at 5.6%, the head of the country's statistics committee said Tuesday. Arif Valiyev told a news conference that budget revenues in the first six months of 2006 had grown 76.2% year-on-year to 1.292 billion manat ($1.45 bln), with spending rising 52.2% in the same period to 1.118 billion manat ($1.23 bln). Azerbaijan's population stood at 8.3 million as of July 1, with a working population of 3.9 million, or 47%., he said, adding that the employed services had officially registered 55,400 jobseekers. He said the average monthly salary had reached 142 manat (about $156), up 20.4% year-on-year. Valiyev said Tuesday that Azerbaijan's gross domestic product totaled over $7.81 billion in January-June 2006, up 36.3% year-on-year, with GDP per capita growing 34.7% y-o-y to $944.
Azerbaijan's GDP hits $7.8 bln in 1H06
BAKU, July 18 (RIA Novosti) - Azerbaijan's GDP totaled over $7.81 billion in January-June 2006, up 36.3% year on year, the head of the country's statistics committee said Tuesday. Arif Valiyev said GDP per capita had stood at $944 in the first half of 2006, up 34.7% year on year.
Tuesday, July 11, 2006
Aliyev does not rule out possibility of resuming military operation between Azerbaijan and Armenia
07–11–2006 Regnum News – Azerbaijani President Ilham Aliyev does not rule out a possibility of resuming military operation between Azerbaijan and Armenia. In an interview to Turkish Jumhurriyet daily made public by AzTV1 state television on July 10, Ilham Aliyev is reportedly saying that "a war is never ruled out. The current ceasefire is rather fragile, security measures do not provide full peace at the contact line." According to him, there are no other states' forces between Armenia and Azerbaijan, no peacekeeping troops, "so at any moment an unpleasant incident can occur." The Azerbaijani leader also rejected a possibility of holding a meeting a meeting of Azerbaijani and Armenian leaders in St. Petersburg during the G8 summit. "No. No such meeting is planned. For the last several months we have met twice, and the meetings have born no results," Aliyev noted. "There is no agreement between us. No matter what suppositions are made, they have no grounds. And the main reason for it is Armenia's destructive position," Ilham Aliyev is quoted as saying, adding that he gives a chance to Armenia to free voluntarily "occupied Azerbaijani territories" and settle the problem without bloodshed and war. "If we reach it, things will change in the region. Relations will improve, and cooperation will become possible. In future, Armenia, which is isolated from all international projects, will be able to join them. The Armenian people can gain profit from it," Ilham Aliyev concluded, Day.az reports.
Friday, July 07, 2006
Azerbaijan remains fastest-growing economy in CIS
07 July 2006 [16:21] - Today.Az - Azerbaijan topped all other former Soviet republics for economic growth in the first five months of 2006. The country's Gross Development Product grew 38% in this period, according to the Commonwealth of Independent States (CIS) inter-governmental statistics committee. The lowest GDP growth was registered in Kyrgyzstan, AssA-Irada reports. Azerbaijan is followed by Armenia, with 11.3%, Belarus - 10.3% and Tajikistan 5.3%. The economic development in Ukraine and Georgia, which have experienced the soft change of power referred to as Orange Revolution, made up 4% and 8.4%. The GDP increased 7.7% in Kazakhstan, 6.2% in Moldova, 5.5% in the largest former Soviet republic Russia, and 3.6% in Uzbekistan. The average GDP growth in CIS states made up 6% in January-May. The average inflation made up 9% in CIS, with the highest figure in Moldova – 10.8%, and the lowest one in Armenia – 0.7%. The indicator made up 5.6% in Azerbaijan. The rise in prices on consumer goods made up 10.3% in Russia, 9.3% in Tajikistan, 8.7% in Ukraine, 8.6% in Kazakhstan, 7.5% in Belarus, 6.2% in Georgia and 6.1% in Kyrgyzstan.
Azeri Crude to Slip Out of Russia's Stranglehold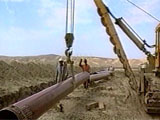 Friday, July 7, 2006 - Reuters - By Simon Webb - LONDON — The mammoth Baku-Ceyhan pipeline from Azerbaijan to the Mediterranean is a step toward freeing Caspian oil from Russia's stranglehold but the grip will not be broken until Kazakhstan finds new export routes, analysts say. The $4 billion pipeline, due to be inaugurated next week, will pump from 300,000 to 400,000 barrels per day of Azeri crude to Turkey's Ceyhan port and international markets by the end of this year, rising to a million bpd in 2008. It is the first time large volumes of crude will be exported from the Caspian oil producing region of Azerbaijan, Kazakhstan and Turkmenistan without going through northern neighbor Russia. "Baku-Ceyhan does not break Russia's stranglehold," said Alfa Bank's Moscow-based chief strategist Chris Weafer. "What was much more important were the projects coming behind it. But they haven't happened. The big prize now that the major oil companies are after is the line from Kazakhstan." Exports from the emerging energy giant of Kazakhstan are mostly via Russia to the Black Sea through the Caspian Pipeline Consortium. Russia has repeatedly blocked Kazakh plans to double the Caspian Pipeline's capacity from the current 700,000 bpd, claiming it would put further strain on the congested Turkish Straits. Expansion of the Caspian Pipeline is vital for Kazakhstan, which hopes to triple its oil output to over 3 million bpd by 2015. Looking for an alternative, the Kazakhs joined the Baku-Ceyhan project in mid-June. The most direct connection would be a pipeline under the Caspian from Kazakh fields to Baku. But that option is out of the question without permission from Russia, Iran and Turkmenistan. Environmental groups also oppose the pipeline. "The Russians and the Iranians are going to do all they can to block something like that," said analyst Julian Lee at the Centre for Global Energy Studies. "It is very difficult given the disagreements we have over Caspian Sea ownership." For now, oil companies operating in Kazakhstan are planning to build new terminals on either side of the Caspian and use tankers to ship Kazakh crude across the sea. Lee said he doubted the region had the shipyard capacity to build the tankers needed for large volumes to move that way. Large-scale Kazakh exports through the Baku-Ceyhan line were unlikely before 2010, Kazakh's energy minister said last week. The U.S. gave heavy political support to the Baku-Ceyhan pipeline as it sought to counter Russia's control over the region, diversify its own crude supply and lessen its growing dependency on Middle Eastern oil. "From a diplomatic point of view for the West it makes a lot of sense," said Frank Verrastro, director of the energy program at the Washington-based Center for Strategic and International Studies. "It's non-OPEC, non Persian Gulf oil and the transit route is outside of Russia." The 1770 km pipeline also avoids the Turkish straits, where crude carriers can be subject to long delays during winter. But some analysts question how much more reliable Azerbaijan is in the long term than any other exporter. "From my point of view I'm not sure that Azeri crude is really any more reliable than Russian crude," said Carl Calabro, director of market analysis at PFC Energy. "The Azeris have problems with Armenia and the Turks have problems in eastern Turkey."
Monday, July 03, 2006
Azeri border guards hold large-scale exercises in Caspian Sea
BAKU. June 28 (Interfax-AVN) - Azerbaijani law enforcement agencies have held large-scale military exercises in the country's section of the Caspian Sea. Azerbaijani State Border Guard Service, the Special State Security Service, the Emergency Situations and Defense ministries took part in the special tactical maneuvers, the border guard service's press center said on Wednesday. The aim of the maneuvers was to practice coordination between the services in case of possible threats to the shores, isles, oil and gas export pipelines and oil platforms in Azerbaijan's sector of the Caspian Sea. The border guard service departments that took part in the exercise included coastguards and quick-response forces, border guard ships, an aviation squadron, the Lenkoran, Khudat and Shamkir border guard squads, and a communication battalion.
In Azerbaijan only 40% of subscribers pay for gas and electricity
07-03-2006 Regnum News - During a meeting on energy problems Azeri President Ilham Aliyev instructed the presidents of Azerigas and Azerenergy to take measures to raise the rate of natural gas and electricity bill collection. REGNUM reports Azeri Economic Development Minister Heydar Babayev to tell journalists that the untimely payment of natural gas and electricity bills results in additional subsidies and growing inflation. In 2005, President Aliyev allowed the poor not to pay for gas and electricity. After the broadcasting of that meeting on TV, the collection rate sharply decreased. In 2005 the rate of collection of gas bills was only 20%, of electricity bills in the regions – 30%. For the moment, the rate of collection of gas and electricity bills makes up only 40% of their cost.
Azerbaijan to Get Loan from World Bank
03.07.2006 09:31 - [Neftegaz.ru] - World Bank directors at a Thursday meeting approved three loans totaling $100.1 million for Azerbaijan, Interfax reported. The package includes $50 million for health care reforms, $21.6 million for modernizing the judiciary and $28.5 million for agricultural development, the World Bank's web-site said
Contact me: