Thursday, June 22, 2006
Turkey to officially inaugurate BTC pipeline on July 13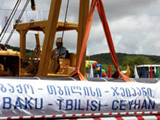 15 June 2006 - Today.Az - Turkey is preparing an elaborate ceremony to inaugurate the strategic Baku-Tbilisi-Ceyhan (BTC) oil pipeline on July 13, the event's organisers said Thursday. Turkish authorities have invited almost 50 heads of state or government to the party, including US President George W. Bush, Russian President Vladimir Putin and British Prime Minister Tony Blair, an official source told AFP. The BTC has been built with strong US backing and is designed to transport crude oil from the Caspian Sea to Western markets without passing through Iran or Russia. Kazakhstan, which has large petroleum reserves, is also expected to join the project, which is led by the British oil major BP. Investors are counting on the pipeline carrying not only Azerbaijani but also Kazakh oil. The 1,770-kilometre (1,100-mile) pipeline connects Azerbaijan's Caspian coast to Turkey's Mediterranean port of Ceyhan via Georgia and has recently begun operation, with a first shipment dispatched from Ceyhan on June 4. Further work is needed however for the pipeline to be fully operational.
Kazakh, Azeri Leaders signed agreement on Kazakh oil's delivery via BTC

16 June 2006 Today.Az - On Friday Kazakhstan President Nursultan Nazarbayev has received Azerbaijan Leader Ilham Aliyev. The Presidents have signed an Agreement between Kazakhstan and Azerbaijan on assistance and support of oil transportation from Kazakhstan via the Caspian Sea and territory of Azerbaijan to the international markets through Baku-Tbilisi-Ceyhan system. This treaty is of great importance. Kazakhstan and Azerbaijan, two Caspian littoral states, are regarded as the main links for trade between Central Asia and Caucasus. According to the Agreement there will be constructed infrastructure in Kazakhstan as well as in Azerbaijan by 2010. It is a crucial point in two states' relationship, Nursultan Nazarbayev underlined. We have negotiated a wide range of issues on bilateral regional cooperation. Energy, communication and transport safety, consolidation of regional stability will depend on close collaboration of our countries, Aliyev said. The parties noted the signed interstate treaty evidences high level of relations between the states, sample of allied ties.
Tuesday, June 06, 2006
Azerbaijan oil sales to yield $140bln at $50 per barrel
BAKU, June 6 (RIA Novosti)
- Azerbaijan will receive $140 billion from oil sales in the next few years if the price of oil averages $50 per barrel, the president of the oil-rich Caucasus republic said Tuesday. "According to international expert estimates, Azerbaijan will receive $140 billion profits in coming years at oil prices of $50 per barrel," Ilham Aliyev told an international oil exhibition in Baku. Aliyev said the financial resources would be used to boost Azerbaijan's development, and that the country's capabilities as a hydrocarbon exporter were rising. "With the commissioning of the Baku-Tbilisi-Ceyhan oil pipeline and the launch of the Baku-Tbilisi-Erzerum gas pipeline, Azerbaijan will turn into a significant oil and gas exporter," Aliyev said.
Saturday, June 03, 2006
Turkey-Greece pipeline to transmit Azeri gas by end of year
26 May 2006 [12:50] - Today.Az
- Turkey-Greece natural gas pipeline transmitting Azeri natural gas would be in operation by the end of 2006, Energy and Natural Resources Minister Hilmi Guler said on Thursday. "At the end of the year, Turkey will send Azeri natural gas to Greece," G?ler told a gathering of Turkish investors, adding that from there it would eventually go to Italy. "We are enriching Europe," he said. The construction of the pipeline started last July in a ceremony held at the middle of the bridge over Meric River, the natural frontier between Greece and Turkey. Stretching over 300 kilometres, 209 kilometres of which is on Turkish territory, the pipeline will transport gas from Azerbaijan and other Caucasus producers to European countries. Starting with a capacity of 3.5 billion cubic meters per year, the pipeline will eventually be able to handle an annual 11.5 billion cubic meters. The cost for the Greek part has been estimated at between 30 and 40 million euros, and for the Turkish part at 250 million euros. Turkey aims to become a regional energy hub between Europe and the natural gas and oil producers of the Caspian Sea and the Middle East. Another major project, the Baku-Tblisi-Ceyhan (BTC) pipeline, which will carry Azeri oil through Georgia to the Turkish Mediterranean port of Ceyhan and from there to world markets, is expected to be officially inaugurated in July.
Number of inactive wells of SOCAR reduced
24 May 2006 - Today.Az - SOCAR petroleum and gas extracting administrations had 6632 wells in their balances May 1 this year, 4903 of which are now active. Extraction is realized using flowing method in 265 wells, air pumping method in 754 wells and deeper pumping method in 3866 wells. Number of inactive wells was 1716 May 1. As APA reports, the number of inactive wells reduced 84 units by the early year. Another 8 wells are in the preparation for exploitation. SOCAR had well stock contained of 6770 wells January 1. 4963 of them are active, 1800 are inactive and 7 are in the preparation for exploitation.
Contact me: