Monday, January 30, 2006
Azerbaijan starts pumping Iranian gas to Georgia
BAKU, January 30 (RIA Novosti, Gerai Dadashev) - Azerbaijan started transporting Iranian natural gas to Georgia Monday, a spokesman for gas firm Azerigaz said. "The Iranian and Georgian sides have signed an agreement on the purchase and sale of gas, and our role envisions just the transit of relevant gas volumes," Kamandar Eivazly said, adding that Azerbaijan would pump 2 million cu m per day to Georgia. Deliveries began at 4:00 a.m. local time (1:00 a.m. GMT), he said. Eivazly said he had no information on either the terms of the Iranian gas supplies or on the cost of gas transit via Azerbaijan. Georgia's capital city of Tbilisi, together with much of the east of the country, was plunged into darkness in the early hours of Thursday, as a voltage fluctuation caused an almost total blackout. The power cut added to the Caucasus republic's energy woes, after explosions in southern Russia eight days ago cut off gas supplies and damaged another electricity line, leaving Georgia struggling for heating supplies amid record low temperatures. Russian engineers were repairing the pipelines, but severe weather was hampering their efforts. A spokesman for the Georgian International Gas Corporation said the gas would reach Georgia at 2:30 p.m. local time.
Sunday, January 29, 2006
EU interested in Caspian energy, including Azerbaijan
BAKU, January 27 (RIA Novosti) - The European Union is interested in consuming Caspian energy resources, including supplies from the littoral country of Azerbaijan, the EU's special representative for the South Caucasus said Friday. According to Heikki Talvitie, the EU's interest in the energy-rich region was based on the organization's economic policy, which seeks to diversify energy sources. Talvitie said Azerbaijan was attractive to the EU as a transit country for energy supplies from the Caspian region to Europe. Other littoral Caspian states include Russia, Iran, Kazakhstan and Turkmenistan. The EU is looking for alternative energy suppliers after some European nations recently complained about shortfalls in gas supplies from Russia, which are delivered via Ukrainian territory. Russian natural gas giant Gazprom said it had maintained consistent supply levels and put the shortfalls down to Ukraine's gas tapping.
Wednesday, January 25, 2006
France to Host Armenia-Azerbaijan Talks on February 10
25/01/2006 00:06 AFP - The presidents of Armenia and Azerbaijan will meet in Paris on February 10 at the invitation of French President Jacques Chirac to seek ways to resolve a long-standing dispute over the territory of Nagorno Karabakh, Armenian officials said here Tuesday "We are optimistic" about the talks, said Viktor Sogomonyan, spokesman for Armenian President Robert Kocharyan, as he announced the date of the meeting. The invitation from Chirac was announced during talks last Friday in London between the foreign ministers of the two ex-Soviet republics. Armenia and Azerbaijan remain in a tense military standoff over Nagorno Karabakh and have held years of fruitless negotiations under the mediation of the Minsk group, made up of France, Russia and the United States. Nagorno Karabakh is a mountainous territory located inside the borders of Azerbaijan but inhabited mainly by ethnic Armenians. Armenian and Azerbaijani forces fought for control of the territory from 1988 to 1994. The conflict left around 25,000 people dead -- estimates vary widely, depending on the source -- and led to the displacement of hundreds of thousands of people, most of them ethnic Azeris.
Frontera Resources Wins Arbitration Case vs Azerbaijan State Oil Co
25/01/2006 18:59 LONDON (AFX) - Frontera Resources Corp said it won an arbitration case it launched against the State Oil Company of the Azerbaijan Republic (SOCAR).Frontera has been awarded 1.2 mln usd plus interest in claims from the case, which stemmed from SOCAR's halting of exports from the Kursangi and Karabagli oil fields in late-2000. The arbitration panel found that SOCAR's action was in violation of the production sharing agreement signed by the pair. "The arbitration panel rejected all other claims and counterclaims between the parties and the arbitration therefore resolves all claims between Frontera and SOCAR with respect to the PSA," Frontera said.
BTC-pumped oil to reach Ceyhan terminal in March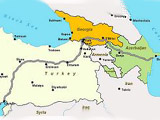 January 2006 - Today.Az - The oil pumped to the Baku-Tbilisi-Ceyhan pipeline at the Sangachal terminal will reach the Turkish port Ceyhan in March, Azerbaijan International Operating Company said. Official opening of the Turkish part of the pipeline and Ceyhan terminal will be held after the oil reached the terminal and filled in the tanker, AzerTAj reports. Currently production tests are underway in Ceyhan terminal to make it completely ready the receive oil. The 1768 km long pipeline connecting Sangachal terminal in Azerbaijan and the Turkish Mediterranean port Ceyhan needs some 10-mln barrel oil to be completely filled.
Georgia intersted in Kazakhstan's participation in BTC project
22 January 2006 [17:32] - Today.Az - Having visited Kazakhstan, the chairperson of parliament of Georgia Nino Burjanadze at a briefing, carried out after the meeting with Minister of Foreign Affairs Kazakhstan Kasymjomard Tokayev, has declared, that Georgia is interested in participation of Kazakhstan in the Baku-Tbilisi-Ceyhan Main Expport Pipeline (BTC MEP). Having noted, that BTC represents for Georgia not only economic, but also political value, N.Burjanadze has told, that similar projects promote stability in region. She has declared, that Georgia hopes for participation of Kazakhstan both in the project on BTC and and in other projects connected to transportation of gas. According to AzerTAg, Chairperson of parliament of Georgia has noted, that her country also will support the initiative of presidency of Kazakhstan in OSCE: "We try, that Kazakhstan took more active part in solution of problems in the Caucasus region, in the process of improvement of political and economic situation in region".
SOCAR holds tender on selling of regular consignment of "Urals" marked crude oil
25 January 2006 - Today.Az - The SOCAR Marketing and Economic Operations Office announced a tender on selling of a regular consignment of 140 thousand tons of "Urals" marked crude oil belonging to Azerbaijan. According to the information given to APA from MEOO, the tender stipulates export of 140 thousand tons of "Urals" marked crude oil from Novorossiysk port on February 23-24, 2006. The tender will be terminated on January 27.
Gasprom reduces gas supply to Azerbaijan
24 January 2006 [18:51] -
Today.Az
–The agreement, undersigned by Azgasnagl Production Association (PA) of Azerigas JSC and Georgian gas transportation company on gas supply to Georgia, envisages use of gas only for own needs of the country, but not for delivery to third side. The messages says that despite gas supply reduction to Azerbaijan from 17m cu m to 12m cu m per day by Gasprom, Azerbaijan continues to transport 2m cu m of gas to Georgia. It will enough for partial supply of Tbilisi, the capital city, and uninterrupted functioning of the Gardabansky gas-compressor station, Trend reports. The gas, supplying to Georgia, is envisaged in the Azerbaijan's fuel and energy balance in the amount of 120m cu m per year for use in extremal situations. 3m cu m of gas has been supplied to Georgia so far. The press release notes that despite the statements by Russian media on gas supply to Georgia through Azerbaijani territory by Gasprom, they are not true. Azerbaijan is not able to supply gas via its territory, as it did not sign agreement with Gasprom or Gasexport. Azerbaijani supplies gas to Georgia only at expense of its internal opportunities.
Russian, Kazakh leaders to agree on Caspian Sea border
ST. PETERSBURG, January 25 (RIA Novosti) - Russia and Kazakhstan are planning to sign a protocol on the border of the northern Caspian Sea area, Kazakh President Nursultan Nazarbayev said Wednesday. "We are set to sign a final protocol on the border of the northern Caspian Sea area, which will allow us to jointly develop three major deposits," Nazarbayev told Russian President Vladimir Putin in St. Petersburg. He said Russian and Kazakh companies would be developing the deposits on a parity basis. The Caspian Sea issue has long been under discussion among the five littoral states - Azerbaijan, Russia, Kazakhstan, Turkmenistan and Iran - in an effort to divide the sea's substantial reserves, which include oil and gas.
No bird flu in Azerbaijan - ministry
BAKU. Jan 24 (Interfax) - Six monitoring programs conducted in Azerbaijan by the Environmental Protection and Natural Resources Ministry have not revealed bird flu outbreaks in Azerbaijan, the ministry told Interfax."In total, seven monitoring programs have been conducted. Six of them have not discovered the H5N1 strain. Results of the latest monitoring are expected to be announced soon," ministry official said. The monitoring of migrating birds is continuing, they said. "Thirty-two dead birds were discovered in different parts of the country. None were found to have bird flu," the ministry said.
Tuesday, January 24, 2006
Fitch affirms Azerbaijan ratings at BB
MOSCOW, January 24 (RIA Novosti) -– Fitch Ratings affirmed Tuesday Azerbaijan's foreign and local currency issuer default ratings at 'BB' with a stable outlook, along with the same rating for the country ceiling. The agency said the ratings could improve if the positive dynamics of the country's economic growth and exports continue on the back of further structural reform to encourage private investment and the development of the non-oil sector, as well as further significant accumulation of foreign assets under the management of the Azerbaijan's State Oil Fund. Fitch said that the sovereign rating was supported by the development of the country's oil and gas resources and moderate government and external debt ratios. However, the agency said several factors constrained Azerbaijan's sovereign ratings, including high social needs, a difficult business environment, poor corporate governance and transparency, the underdeveloped non-oil sector, weak banking system, and corruption.
Monday, January 23, 2006
Azerbaijani speaker invites opposition to take part in parliament's work
BAKU. Jan 20 (Interfax-Azerbaijan) - Speaker of the Azerbaijani parliament Oktai Asadov has urged opposition deputies to take part in the work of parliament. "I find the refusal of opposition deputies to participate in the work of parliament wrong because each of them represents over 40,000 voters and must respect the votes of his voters," he told the press on Friday. Asadov voiced hope that the opposition would take part in the spring session of parliament. "I hope that opposition deputies will attend the spring session and live up to expectations by at least taking part in the work of parliament. Otherwise, steps prescribed by the law will be taken against them," Asadov said. The Azerbaijani parliament was elected on November 6, 2005. Deputies representing the opposition alliance Azadlyg refuse to take part in law-making, saying that the voting was rigged. For instance, former state secretary and leader of the Liberal Party and National Unity movement Lala Shovket Gajiyeva has forsaken her mandate.
Azerbaijan rescues Georgia, left without gas, electricity
BAKU, January 23 (RIA Novosti, Gerai Dadashev) - Azerbaijan has been supplying 4 million cu m of natural gas a day to the neighboring Caucasus republic of Georgia since supplies from Russia were cut following blasts on the trunk pipelines early Sunday, Azerbaijani state gas company Azerigaz said Monday. "We are supplying 4 million cu m of natural gas [to Georgia]," the company's press secretary Kamandar Eivazov said. "Therefore, Russia has increased supplies to Azerbaijan by three million cu m. "Georgia approached the Azerbaijani president, asking for help, and acting on the president's instruction, we [Azerigaz] started delivering gas to the fraternal republic," he said. Eivazov said natural gas began to be delivered to Georgia at 9:30p.m. local time (5:30p.n. GMT) Sunday. Two blasts on pipelines in North Ossetia, Russia's republic in the North Caucasus, cut gas supplies to Georgia and Armenia. Georgia was also left without electricity supplies from Russia as blasts also went off under transmission lines running from Russia to Georgia. Russia's Emergency Situations Ministry said Sunday that it would take at least two or three days to repair the pipelines. Russian police said Monday that five explosive devices had been planted to blow up the transmission lines. According to a law-enforcement officer in Russia's Southern Federal District, homemade bombs went off under the racks of three poles, sending two of them to the ground and cutting off wires for two kilometers. The blasts occurred at the Uchkulanskoye Gorge in the Karachai-Cherkessian Republic. Police discovered three devices containing about 12kg of plastic explosives under the third pole, which did not blow up. The inquiry into the incident and repair efforts are continuing. In an emotionally-charged response to the incident, Georgian President Mikheil Saakashvili said the incidents were politically motivated and premeditated by Russia. Russia's Foreign Ministry immediately responded by dismissing the president's statements as "hysterics". Relations between Russia and Georgia deteriorated following a democratic revolution in the former Soviet republic in 2003. The popular uprising, known as the Rose Revolution, brought a pro-western government to power.
Monday, January 16, 2006
Azerbaijan's Russian gas imports total 4.5 billion cu m in 2005
BAKU, January 13 (RIA Novosti, Gerai Dadashev) - Azerbaijan imported 4.54 billion cubic meters of Russian gas last year, national oil company Socar said Friday. December imports were around 384.2 million cu m, the company said. Socar paid $61 per 1,000 cu m for its gas last year. Under an agreement between Gazexport, Gazprom's export arm, and Socar, Azerbaijan will receive 4.5 billion cu m of gas at a price of $110 per 1,000 cu m in 2006. Azerbaijan's annual domestic gas needs total 9.5-10 billion cu m, with gas making up 45% of the country's energy mix. Azerbaijan produces around 5.5 billion cu m of gas, and is expected to raise domestic production significantly once its Shakh-Deniz field in the Caspian Sea comes on stream. Under an agreement signed in December 2003, Gazprom is to supply Azerbaijan with 4.5-5.5 billion cu m of gas per year until the end of 2008.
Contact me: