Tuesday, October 31, 2006
Ilham Aliyev - Baku-Moscow relations are not connected with Moscow-Tbilisi relations
10-30-2006 Regnum News - Tensions between Russia and Georgia have not influenced and will not influence upon Baku relations with Moscow and Tbilisi; Azerbaijani President Ilham Aliyev stated in his interview to foreign mass media, text of which is officially released in Baku. According to him, both Russia and Georgia "are our neighbors; we have very good strategic partner relations with both countries." At the same time, Aliyev does not believe that good relations with Armenia prevent Russia from having equally good relations with Azerbaijan. "Russia and Azerbaijan have eliminated all unsettled problems in their relations. At present, there is no problem remained, which could destroy our relations. On the contrary, we have quite substantial successes in developing cooperation in economical, political, and cultural spheres," the Azerbaijani president stated, reminding that Russia is one of the three OSCE Minsk Group co-chairs having mandate of a mediator for the Karabakh conflict's settlement. "We see that Russian government takes sincere attempts for peaceful settlement of Armenian-Azerbaijani conflict," he stated.
Matthew Bryza - Europe needed to work more with Azerbaijan
30 October 2006 - Financial Times - Germany's big gas pipeline deal with Russia has been criticised by a US official, in a sign of Washington's mounting unease about Berlin's ties with Moscow. In at interview with Financial Times Deutschland, the FT's sister paper, Matthew Bryza, the US deputy assistant secretary of state for the Caucasus and southern Europe, indicated that the 5bn euros Baltic Sea pipeline would deepen Europe's dependence on Russian gas. "That project simply raises the question what diversification means when it comes to gas supply," Mr Bryza said. "If you live in Germany you do not want to go through what happened last winter with Ukraine [when Russia shut off the supply of gas]. I wonder as a US official how much diversification anybody can develop by having more pipelines into the same supplier." Relations between Russia and the United States are at one of their lowest ebbs since the Cold War, partly because of US support for the "colour revolutions" in the former Soviet states of Ukraine and Georgia. Washington is worried that Angela Merkel, German chancellor, is slipping from her intention to distance the German government more from Moscow than was the case under her predecessor, Gerhard Schroder. US diplomats add that European states failed to give sufficient backing for Georgia when tensions between Tbilisi and Moscow recently rose because of a spy scandal. In the interview, Mr Bryza cautioned Russia not to cut off gas to Ukraine again or to do the same to Georgia, which was denied gas for about two weeks last winter after mysterious explosions damaged a pipeline. Mr Bryza echoed concerns voiced by some EU officials that the Baltic pipeline weakened European solidarity in negotiating with Moscow, particularly since it bypasses Poland. German politicians maintain that the pipeline boosts the country's energy security by increasing the number of supply routes. In comments seemingly aimed at Russia's Gazprom, Mr Bryza said: "Very often the monopolist will work to cut a specific deal with an individual country . . . If that happens it's much harder for Europe to stand together." He said Europe needed to work more with the Caspian area, and in particular Azerbaijan, if its dependency on Russian gas were not to soar. He added that the US predicted that Russia would increase its share of Europe's gas market from 25 per cent today to 33 per cent within a decade, but that Azerbaijan could increase its exports to about a quarter of the Russian level. Financial Times
BTC spent $834 million in Jan-Sept 2006
29 October 2006 - AzerTAg - During the first three quarters of the year Baku-Tbilisi-Ceyhan oil pipeline spent $834 million (including the costs of line-fill and financing) in capital expenditure, press service of the BP Azerbaijan said. The company's forecast is that BTC's total capital expenditures will amount to $932 million for this year. The highest daily flow-rate via BTC to date has been just over 520,000 barrels in September. The design capacity of one million barrels of oil per day is planned to be reached during 2007 and at its peak the Ceyhan terminal will fill 1-2 tankers per day. While the BTC pipeline will initially carry only Azeri-Chirag-Gunashli oil, it is expected that future volumes will include those from across the Caspian.
SOCAR may explore Caspian gas field in 2007
26 October 2006 - Reuters - Azeri state oil firm SOCAR may start exploratory drilling of prospective natural gas structures at the Babek-Umid block in the Caspian Sea in the spring of next year, a senior company official said on Thursday. Khoshbakht Yusifzade, first vice president of SOCAR, said that if his company wanted to proceed before February 2007, it would first have to resolve legal issues with U.S. oil major ConocoPhillips, which is party to a memorandum of understanding (MOU) over the block. The memorandum between the two companies, which expires in February, has not led to a joint deal to explore the block. "According to the MOU, we will have to wait till it expires to independently start operations on the block," Yusifzade told Reuters. Umid-Babek is expected to produce 14-15 billion cubic metres of gas a year at its peak, according to SOCAR's estimates. Yusifzade said exploratory drilling with a semi-submersible platform owned by Denmark's Moeller-Maersk would provide data for calculating reserves and could open up the gas field. Yusifzade also said that SOCAR planned to start operations on the Nakhichevan offshore block on the expiry of its liabilities to another U.S. oil major, Exxon Mobil which previously was the operator and owned 50 percent in the project. Last year, Exxon pulled out of exploring the block after its exploration well did not find commercial quantities of oil in 2002. It paid Azerbaijan around $50 million in compensation. Nakhichevan's reserves are yet to be precisely calculated.
Azerbaijan to import up to 2bn cu m of gas from Iran in 2007
26 October 2006 [10:58] - Today.Az - Azerbaijan has not yet set the volume and price of gas imports for 2007, Industry and Energy Minister Natig Aliyev told reporters. He said that Azerbaijan negotiated wit Iran on gas imports recently, APA reports. "We will buy 2bn cu m of gas from Iran if the price is reasonable," he said. In case of any agreement between Georgia and Iran, delivery of Iranian gas to Georgia through Azerbaijan can be discussed. Touching on gas imports from Russia, the minister said that Azerbaijan shouldn't rush in this issue and Azerbaijan will make any decision after Russia sets the price for gas imports to other CIS countries.
BP raises Azeri oil estimate

26 October 2006 - Bloomberg - BP raised by 20 percent its estimate of proven oil reserves in three offshore fields in the Azeri sector of the Caspian Sea, which the British company is developing with partners. The proven reserves of the Azeri Chirag-Gunashli fields are now estimated at 6.5 billion barrels of crude, up from an earlier 5.4 billion barrels. BP estimates fields in the Caspian Sea might hold another 7.6 billion barrels that aren't proven yet, Interfax reported Wednesday, citing Tair Tairov, a BP manager in Azerbaijan.
SOCAR-owned mining lands to be freed from illegal constructions
25 October 2006 [16:52] - Today.Az - SOCAR-owned oil mining territories should be cleared from illegal constructions, SOCAR President Rovnag Abdullayev said. He said that it is not allowed to live in this territories and harmful to the health. "The Company's ecology department is projecting a new program and the operation will be started shortly. These lands can be handed over to the local authorities or the Baku Mayor's Office if they are not suitable or oil mining after restoration and purification of these lands," he underscored, APA reports.
Natig Aliyev - Falling oil price not risky for Azerbaijan
25 October 2006 [14:47] - Today.Az - Oil price fall in the world market is not risky for Azerbaijan, Azerbaijan's industry and energy minister Natig Aliyev told reporters. If the price per barrel is over US $50 planned for next year State Budget of Azerbaijan, it is favourable for Azerbaijan. "It would be unfavourable if the price is under the price planned in the Budget. Azerbaijan has reserves to regulate the process," he said. Considering oil price fall down in the world market as natural, Natig Aliyev said Azerbaijan can not influence this process. "OPEC can regulate this process and regulate the price. Price fall is its interest," he said. The Minister also stated that Azerbaijan should only gain benefit from this process and harmonize it policy with this process, APA reports. "The higher oil prices the more favourable for Azerbaijan," he underscored.
SOCAR President - No liquid gas shortage in Azerbaijan
21 October 2006 [12:50] - Today.Az - There is no deficiency of liquid gas in Azerbaijan in domestic market, SOCAR President Rovnag Abdullayev said. He said Azerbaijan's annual demand for liquid gas is 9000-10000 tonnes in the domestic market, APA reports. Heydar Aliyev Gas Processing Plant is capable of processing 20 000 tonnes of gas but it is processing 15000-16000 tonnes of gas through lack of our gas collection potential. Our gas storage potential is 1 800 tonnes. We use the spare gas and stop processing in these cases.
Rovnag Abdullayev - One Shah Deniz well to be commissioned in October

21 October 2006 [12:48] - Today.Az – "Delay of the production of Shah Deniz gas is related to marine activities. The wells and pipeline to Sangachal terminal are ready." SOCAR Rovnag Abdullayev told reporters, APA reports. Abdullayev said that one of the wells will be commissioned in October. "The gas will be delivered in November after some tests. The part of pipeline up to Georgia has been filled with gas. Turkish part is not ready yet. We will receive Shah Deniz gas even if Turkish is unready to take the gas." He said that construction of Sangachal-Gazimammad gas pipeline has commenced. The construction will be completed in 2007. "With this Azerbaijan's gas transmission system will be ready to receive Shah Deniz gas." SOCAR forecasts to get 1.4bn cu m of gas from AIOC next year. "Besides, 500m cu m of gas will be delivered to the State. This production will rise to 1bn cu m next year. After completing gas collection system in Guneshli Field we will deliver 2 bn more cu m of gas in 2008," he said.
Thursday, October 12, 2006
Azerbaijan could permit Iran gas transit to Georgia - minister
BAKU, October 12 (RIA Novosti) - If Georgia and Iran reach a natural gas export agreement, Azerbaijan is ready to allow Iranian gas to be transited across its territory to Georgia, the country's industry and energy minister said Thursday. Georgia's traditional gas supplier is Russia, but supplies were disrupted in January after pipeline explosions in southern Russia, which left Georgia struggling for heating supplies amid record low temperatures. To meet its natural gas needs, Georgia turned to Azerbaijan and fellow Caspian Sea state Iran until Russia resumes supplies. Natik Aliyev said talks between Tbilisi and Tehran on the gas issue will take place in Iran soon. Russia cut off transportation links with Georgia last week after Georgian police detained four Russian servicemen on espionage charges. Although the servicemen were released, tensions between the countries remain high and Russia has evacuated most of its diplomats from the territory of its southern neighbor. The Georgian Fuel and Energy Ministry said Minister Nika Gilauri will head for Tehran October 21 to meet with government members and hold preliminary consultations on gas imports. "Technical details will not be discussed during the talks," a spokesperson said. "These are just preliminary talks." During Gilauri's recent visit to Iran, he was told on October 10 that Azerbaijan deemed it possible to transport Iranian gas across its territory. Since President Mikheil Saakashvili came to power in Georgia on the back of the 2003 "Rose Revolution," both the government and parliament have sought to remove Russian peacekeepers from conflict zones with two self-proclaimed republics, and to force the withdrawal of Russian troops from two Soviet-era bases that are due to close in 2008, which complicated bilateral relations.
Azerbaijan' SOCAR oil output 49.51 mln bbl in 9M06, up 0.2%
BAKU, October 12 (RIA Novosti) - The State Oil Company of Azerbaijan (SOCAR) said Thursday its crude output grew 0.2%, year-on-year, in the first nine months of 2006, to 6.736 million metric tons (49.51 million bbl). The company's press service said a total of 751,000 tons (5.52 million bbl) of oil was produced in September. In 2005, SOCAR produced 8.97 million tons (65.93 million bbl) of oil, and 5.82 billion cubic meters of gas. SOCAR is part of the Azerbaijan International Operating Company, the BP-led consortium that operates the country's Azeri-Chirag-Gunashli (ACG) offshore oilfield, with estimated recoverable reserves of 5.4 billion barrels. According to Azerbaijan's industry and energy ministry, crude output in Azerbaijan in 2005 was 22.2 million metric tons (163 million bbl), representing a 43% year-on-year increase.
Azerbaijan mulls stopping Russian gas imports if price too high
BAKU, October 12 (RIA Novosti) - Azerbaijan may stop imports of Russian natural gas in 2007 and seek alternatives if prices offered at upcoming talks are unacceptably high, the country's energy minister said Thursday. Since last year, Russian energy giant Gazprom has been pushing for 'market prices' on the gas it sells to its ex-Soviet neighbors, which had previously been sold gas at preferential rates - in some cases, several times lower than the European level. "If the price for natural gas is too high, Azerbaijan would refuse to buy it [from Russia]," Natik Aliyev said adding that the country has many alternative sources of gas supplies. Under an agreement signed in December 2003, Gazprom is to supply Azerbaijan with 4.5-5.5 billion cubic meters of natural gas annually until the end of 2008. In 2006, Azerbaijan will receive 4.5 billion cu m of gas at a price of $110 per 1,000 cu m. The average price for EU countries is $240 per 1,000 cu m. The next round of talks between Azerbaijan and Gazexport, the Russian gas monopoly's export arm, on setting the volume and price for Russian gas supplies to the Caspian country in 2007 is scheduled for November. Aliyev said hydrocarbon-rich Azerbaijan could import gas from Iran and also increase domestic production significantly once its Shakh-Deniz field in the Caspian Sea, with estimated reserves of around 1,000 billion cu m, comes on stream in December. Azerbaijan's annual domestic gas consumption totals 15-16 billion cu m. The country currently produces around 6.5 billion cu m of natural gas per year. Iran has proven natural gas reserves of around 28 trillion cubic meters, the world's second largest reserves behind Russia. In 2005, gas production in the country totaled 86.6 bln cu m.
Tuesday, October 10, 2006
Ex-oil chief indicted
BAKU 10–10–2006 Baku Sun - A former oil executive has been charged in connection with an alleged coup plot in Azerbaijan last year, his lawyer said on 29 September. Separately, an American lawyer for Rafiq Aliyev said authorities had violated Azerbaijani law and international human rights norms in the case. Aliyev was charged on 28 September with involvement in what Azerbaijani officials say was a plot to overthrow President Ilham Aliyev, said his lawyer, Rafiq Quliyev. Rafiq Aliyev is former chief of the private oil company Azpetrol and brother of former Economic Development Minister Farhad Aliyev, one of a dozen people arrested before parliamentary elections last November in connection with the alleged plot. The opposition says the arrests were part of an effort by the government to manipulate the vote, which Western observers criticized as flawed. The Aliyev brothers, who are not related to the president, were both arrested last October, but Rafiq Aliyev had not been charged with participation in the plot. He had previously been charged on three unrelated counts, including smuggling, Quliyev said. Meanwhile, Farhad Aliyev denounced accusations against him as unfounded in a statement from prison released by his lawyers, and said that he had been subjected to blackmail and "psychological pressure" while in custody. Authorities accuse an opposition leader living in exile, Rasul Guliyev, of masterminding the alleged coup plot. Charles Both, a Washington, D.C.-based lawyer for Farhad and Rafiq Aliyev, said the authorities have violated both Azerbaijani law and international human rights norms. "My clients' right to have a fair and free and effective remedy ... has been violated. My clients' right to freedom from discrimination on political grounds has clearly been violated," Both told a news conference. He said authorities had violated the presumption of innocence by referring to the accused as criminals even though they have not been tried. Both said he arrived in the Azerbaijani capital, Baku, on 25 September and appealed to the prosecutor general's office the same day with a request to meet with his clients, but received no response.
SOCAR has 6,182 production wells
10 October 2006 [10:39] - Today.Az - As of October 1, the State Oil Company of Azerbaijan (SOCAR) (excluding Operating Companies and Joint Ventures) has 6 182 production wells. SOCAR told APA that 4 757 wells are in commission and 1 412 are out of commission. 13 more wells are being developed currently.
SOCAR announces tender on Azeri LT
10 October 2006 - Today.Az - SOCAR Marketing and Economic Operations Department announced a tender on export of SOCAR's 1mn barrels of Azeri Light crude oil from Supsa Port in 11-12 November and the result of the tender will be announced in October 13, the Department told APA.
Baku-Tbilisi-Erzurum gas pipeline's construction nearing end

09 October 2006 [16:50] - Today.Az - State Oil Company of Azerbaijan (SOCAR) said construction of the Baku-Tbilisi-Erzurum gas pipeline is nearing the end. The pipeline will transport gas from the Shahdeniz field. SOCAR added this will let Azerbaijan become a gas producing country. The Shahdeniz gas will reportedly be transported to Turkey and then to the European markets. Greece, Italy, Ukraine and the Baltic countries have already shown interest in the project.
President Aliyev - Azerbaijan hopes to secure long-term business ties with Russia
06 October 2006 [15:01] - Interfax - Azerbaijan hopes for long-term business cooperation with Russia, Azeri President Ilham Aliyev told a meeting with Russian Economic Development and Trade Minister German Gref in Baku on Friday. "Our countries' trade has doubled over a short period of time. It will continue to grow. For this reason, we hope for long-term business cooperation and investment," he said. A favorable investment climate in Azerbaijan and the two nations' successful political dialogue will contribute to this task, Aliyev said. "We hope to broaden our relations. That is why your visit is increasingly important," the president said. Bilateral business cooperation has been developing at a rapid pace, Aliyev said. However, the level of business contacts between Russia and Azerbaijan is not as high as the level of their political contacts, Gref said. "The level of political relations between our countries, including your relations with President Vladimir Putin, is slightly higher than the level of economic ties. For this reason, we should step up economic cooperation. Serious work is needed," the Russian minister said.
Iran offers an oil export route for the Central Asian countries

08 October 2006 [23:39] - Today.Az -
Iran made a pitch to become a strategic export route for Central Asia's oil, even as Tehran faces mounting pressure from the West to abandon its nuclear ambitions.

A senior oil ministry official said Iran could more than double the volumes of crude oil it receives under "swap" deals, putting the imported oil through its northern oil refineries and exporting an equivalent amount from its southern ports. "We can currently handle 200,000 barrels per day of Caspian and Central Asian crude oil -- and with minimal cost we can raise that figure to 500,000 barrels per day," Mahmood Khaghani, head of Caspian Sea affairs at the ministry, told a conference. Iran, which offers the shortest direct route for Central Asian oil and gas to international markets, has long sought to woo the energy-rich states that became independent after the collapse of the Soviet Union in 1991. So far it has had limited success. Iran is internationally isolated and could face sanctions over what the West believes is its goal of building a nuclear bomb. But with offshore oil production in the Kazakh sector of the Caspian Sea set to soar from 3 million tons to nearly 90 million tons within a decade, Iran has never quite been ruled out as an export option. "History has proved that economics shall prevail and politics shall fail," Khaghani told reporters on the fringes of the Kazakhstan International Oil and Gas Exhibition (KIOGE) in Almaty. Kazakhstan, seeking to diversify away from its dependence on Russia as an export route, is prioritising sending oil exports across the Caspian Sea to the BP-led Baku-Tbilisi-Ceyhan (BTC) pipeline, which has just entered service. France's Total is leading the $4 billion Kazakhstan Caspian Transportation System (KCTS), which envisages pumping oil from the giant Kashagan field to the Kazakh port of Kuryk, then shipping it westward across the Caspian Sea to Baku. "We hope that we will soon reach a commercial agreement on the business structure of this project," Kairgeldy Kabyldin, managing director of transport and service at state oil firm KazMunaiGas, told the conference. Kabyldin also highlighted expanding the Caspian Pipeline Consortium, which pumps oil from the Chevron-led CVX.N. TengizChevroil field, and expanding a new eastward pipeline to China as priorities of Kazakhstan's oil export policy. But Iranian officials reckon the Central Asians will -- at the latest by the middle of the next decade -- need a major southern export route. Mohammad Souri, managing director of the National Iranian Tanker Company (NITC), told the conference that Iran was buying six new, larger, tankers to ply the Caspian and would boost the capacity of its Neka oil port. Souri said Iran wanted to increase imports of Central Asian crude to 370,000 barrels per day, which it would put through its Tehran and Tabriz oil refineries. At a later stage, volumes could be increased to 500,000 bpd, he added. Souri estimated transport costs at $6 per ton using the larger tankers -- with a capacity of 63,000 tons -- or around one-fifth of other export routes. Oil executives played down Iran's chances of becoming a key export route for Caspian crude soon, noting that in today's climate their U.S. partners could never back such an option. "For them it would be impossible," Philippe Rochoux, managing director at Total E&P Kazakhstan, told Reuters. In addition to its role in KCTS, Total is involved in a study into the proposed Kazakhstan-Turkmenistan-Iran Oil Pipeline (KTIOP), which would run down the east Caspian coast. "It's not a project that we are seriously considering," said Rochoux.
3.103mn tonnes of oil delivered to world market from Ceyhan Port since BTC started
07 October 2006 [10:58] - Today.Az - 1 146 404 tonnes of Azerbaijani oil was transported through Baku-Tbilisi-Ceyhan (BTC) in September. As APA reports, 8 tankers carrying 817 554 tonnes of oil sailed to the world market from Ceyhan last month. 4 924 377 tonnes of oil have to date been pumped into the pipeline. Since the BTC came on line, 3 103 000 tonnes (32 tankers) of oil have been delivered to the world market up to October 1.
Vahid Alakbarov - LUKoil to increase a number of gas stations to 30 in Azerbaijan
06 October 2006 [16:35] - Today.Az - Russia's LUKoil Oil Company President Vahid Alakbarov gave a talk at a press conference in Azerbaijan. He said he had met with senior officials of Azerbaijan during a one-day visit to Azerbaijan, APA reports. Development of retail sale network of LUKoil's oil products in Azerbaijan was discussed at the meeting with President Ilham Aliyev. LUKoil intends to increase the number of filing stations in Azerbaijan from 21 to 30. "The mere intent is not sufficient to achieve this goal. We need parties selling their shares and land for the stations," he said. LUKoil is participating in development of Yalama oilfield in Azerbaijani sector of the Caspian. LUKoil has gas stations and an oil base in Azerbaijan.
Russian companies to develop oil deposits in Azerbaijan

06 October 2006 [14:53] - Itar-Tass - Azerbaijan favours Russian companies to participate in the development of oil deposits on its territory, said Elmar Mammadyarov, the Azerbaijani foreign minister. "If Russian companies will be willing to participate in developing our oilfields, we will only welcome this. It will depend on how active the Russian oil-and-gas sector will be ," Mammadyarov told Itar-Tass on Thursday. "Russian- Azerbaijani relations make very good progress. Many interesting projects are being implemented in the economic, cultural and educational areas," he noted. Besides, Mammadyarov said, relations between Russia and Azerbaijan will set a good example to countries, like Georgia. "Our ties are developing along the lines of mutual respect and concurrence," the minister said. "Given the lack of the language barrier, the existence of a huge market, as in Russia, the possibilities for the development of Azerbaijani agriculture, and the existing cultural closeness, it would be a mistake not to help promoting our business relations," Mammadyarov said.
Azerbaijan seeking to redirect its oil to Persian Gulf ports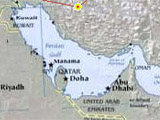 05 October 2006 [20:01] - Fars News Agency -
Ambassador of the Republic of Azerbaijan to Tehran voiced his country's enthusiasm for transferring its oil to the waters of the Persian Gulf.
Speaking at the meeting with governor-general of the Iranian province of East Azarbaijan, Abbas Ali Hasanev also stated that his country is also keen on launching direct flights between the Azeri capital city of Baku and Iran's northwestern city of Tabriz as well as importing wheat from the Eastern Azerbaijan. Stressing the need for deepening of the two countries' relations, he reminded that the two countries' officials are decisive to expand the existing ties despite all the efforts some movements and groups undertake to impair Tehran-Baku relations. He called on the two sides to make an optimum use of the existing potential to boost cooperation and expand relations. The envoy pointed to tourism and cultural activities as two very proper grounds of cooperation, which could help to the development of the two countries' relations, reminding neither Iran nor Azerbaijan has made an appropriate use of the potentials available in the said two areas. For his part, governor-general of East Azarbaijan province of Iran voiced his displeasure with the level of two countries' ties, and called for the removal of the barriers residing in the way of the development of Iran-Azerbaijan relations. He also reiterated the need for the consolidation of ties and reminded that officials of both states should not allow others to impair the two countries' relations. Mohammad Kazem Me'mar-zadeh also welcomed construction of an oil pipeline from the Republic of Azerbaijan to free ports via the refinery of the provincial capital city of Tabriz, and said the measure could pave a strong and active ground for the export of Azerbaijan's oil to East Asia. He called for the establishment of Tabriz-Baku air route and railroad and further voiced his province's readiness for exporting wheat to the Republic of Azerbaijan. The official also underlined the need for exchanging cultural heritage and tourism experts by the two sides and meantime called for the reconstruction of the historical and cultural centers of the Republic of Azerbaijan.
The first Shah Deniz gas to be produced this month

05 October 2006 [16:04] - Today.Az - The Shah Deniz gas and condensate development project has continued to progress according to schedule since the beginning of 2006 and construction is currently almost complete overall.
The first Shah Deniz gas is expected to be produced this month, BP Azerbaijan press officer Tamam Bayatly told APA. The Shah Deniz gas and condensate field, which was discovered in 1999, is located 100km south of Baku at a depth of 600 metres in the Caspian Sea. The recoverable reserves of the Shah Deniz field are 625 billion cubic meters (22.1 trillion cubic feet) of gas and 101 million tons (750 million barrels) of condensate. Shah Deniz gas will be delivered to Turkish and world market through Sangachal Terminal, to Georgia-Turkey border through South Caucasus Pipeline and will be connected to Turkish national gas system. If Turkey is unready to receive Shah Deniz gas, 300mn cubic meters of 1.2bn c.m will be supplied for Georgia, Industry and Energy Minister Natig Aliyev says.
Detention of ex-Economic Development Minister extended for six more months
04 October 2006 - Today.Az - The detention period of the former Economic Development Minister Farhad Aliyev was extended for six more months, Ramis Mammadov said. Nesimi district court Judge Famil Nesibov desided to extend his detention period for more six months because, the investigation have not yet ended – he clarified. Farhad Aliyev is in the National Security Ministry Detention Center now. The former minister was arrested on October 19 last year. He is incriminated under the Criminal Code article 179, 28.220 and 308, APA reports.
Total says Kashagan field production faces delay as costs rise
04 October 2006 [11:12] - Bloomberg –
Total SA said production at the Kashagan oil field in Kazakhstan, one of the five biggest in the world, will likely be delayed beyond its planned 2008 start and the project will cost more than forecast.
The project's design will have to be changed because existing plans don't meet adequate safety standards, Philippe Rochoux, general director of Total Exploration and Production in Kazakhstan, said today in Almaty, Kazakhstan's financial capital. A decision on new designs and the timetable for starting operations will be made by year's end. "It could be delayed by several years, 2008 is not possible," Rochoux said today on the sidelines of a conference in Almaty. "Costs are going to be higher." Kashagan is a key part of Kazakhstan's plans to almost triple oil production to 3.6 million barrels a day by 2015. The field in the Caspian Sea off Kazakhstan is the biggest oil discovery in the past 30 years. Eni, Europe's fourth-largest oil and gas company, in March said developing the field in Kazakhstan would cost between $4 billion and $5 billion more than forecast due to a weaker U.S. dollar and the higher cost of equipment. The company in 2004 put the development cost at $29 billion over 15 years. The Kazakh government had planned for Kashagan to start in 2008. Agip, Eni's oil unit, leads a group of partners, which include Exxon Mobil Corp., Royal Dutch Shell Plc, Total and KazMunaiGaz, Kazakhstan's state oil company, in developing Kashagan. Paris-based Total is developing plans to export crude from Kashagan to the Mediterranean via a BP Plc-led pipeline that links the Azeri capital of Baku to the Turkish port of Ceyhan. A decision on the $4 billion investment to allow oil to be shipped from Kashagan to Baku and onwards will be made by the end of 2008, Rochoux said today. Total is interested in expanding in Kazakhstan and is examining everything "on the market," Rochoux said. The company still wants to acquire a stake in the Caspian Sea's Kurmangazy field, which is being developed by KazMunaiGaz and OAO Rosneft, the Russian state-owned oil company. There are no negotiations at the moment, after the first well drilled at the field came up dry. "Of course it raises some question marks," Rochoux said. "We're trying to understand whether there are still some hopes to find some oil."
Azeri parliament ratifies oil production agreement with Kazakhstan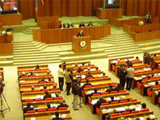 04 October 2006 [10:55] - ITAR-TASS - Milli Majlis has ratified an agreement on transportation of Kazakhstani oil to the world markets via the Caspian seabed and farther on via the territory of this Trans-Caucasian republic by Baku-Tbilisi-Ceyhan oil pipeline, the parliament's press service said on Tuesday.
The agreement was signed by the presidents of Azerbaijan and Kazakhstan, Ilkham Aliyev and Nursultan Nazarbayev, in Astana on June 16, 2006.
It envisions that about five million tonnes of Kazakh oil will be transported annually via the territory of Azerbaijan by the new trans-Caspian oil transportation network.
However, over years that volume will be increased up to 25 million tonnes of oil annually.
According to experts' estimates, the project implementation will cost about three million U.S. dollars. Those funds are necessary for creating a tanker fleet and an appropriate infrastructure on the eastern and western coasts of the Caspian Sea.
Tuesday, October 03, 2006
Azerbaijani President receives delegation led by Co-chair of US - Azerbaijan Chamber of Commerce
03 Oct. 2006 15:52 - Azeri Press Information Agency - President of Azerbaijan Ilham Aliyev today received the delegation led by co-chair of United States–Azerbaijan Chamber of Commerce (USACC) Mr. James A. Baker. President's press service told the APA. Head of the Azerbaijan State expressed consent with the high level of the passing 12th International Tele-Communications and Information Technologies Exhibition-Conference in Baku. Noting that Azerbaijan attaches great attention to development of information technologies field, the President said it is a new stage for the country. He expressed confidence that Azerbaijan would achieve further successes in development of tele-communications and information technologies. Expressing gratitude to the head of the Azerbaijan State for assistance rendered to the Organization he represents, Mr. James Baker underlined the importance of action in Baku. He, in particular, noted involvement of many American companies to the action
Ambassador Anne E. Derse - U.S. has always supported development of democracy in Azerbaijan
02 Oct. 2006 15:19 - Azeri Press Information Agency - "U.S. has always supported development of democracy in Azerbaijan," U.S. Ambassador extraordinary and plenipotentiary to Azerbaijan Anne E. Derse said on the occasion of the opening of the Parliament's autumn session, APA reports. The ambassador congratulated parliamentarians on this occasion and said the parliament should work in a transparent way. "Every parliamentarian has a great role in development of democracy. They bear responsibility. We are confident that the Parliament will play an important part in strengthening of legislation," Ms. Derse said.
US-Azerbaijani Business-Forum takes place in Baku
02 Oct. 2006 12:41 - Azeri Press Information Agency - The US-Azerbaijani Business-Forum has been held in Baku by United States-Azerbaijan Chamber of Commerce (USACC), AzPromo and American Chamber of Commerce (AmCham) and Azerbaijan Export and Investment Promotion Foundation (AzPromo). Azerbaijani Communications and Information Technologies Minister Ali Abbasov told the forum that some $5-7bn is invested in Azerbaijan per year. "ICT sector is the second developed sphere in Azerbaijan. The growth is 30-35% in the ICT section in a year. 80% of the annual $150mn-investment is the domestic capital". He said ICT National Strategy and E-Government State Program envisage a number of reforms and implementation of new projects". US ambassador to Azerbaijan Anne E.Derse said Azerbaijan is a close ally to the USA. "Azerbaijan supported the US after the 9/11 terrorisitc attacks. Today Azerbaijan takes part in peace-making and antiterrorist campaigns together with the USA. Our countries enjoy great cooperation. We are interested in security of energy projects in the region. Non-oil sector is developing in Azerbaijan and we would like our companies to participate in this sector. ICT document signed between the two Governments will both expand cooperation and increase the trade between the both countries". Deputy Economic Development Minister Mikayl Jabbarov and USACC co-chairman Rza Vaziri and other participants made a speech and briefed the guests about the investment climate of Azerbaijan. Azerbaijani CIT ministry and the US Department of State signed a Protocol Concerning Cooperation at the end. US leading companies like Harris Corporation, Science Applications International Corporation, Symantec Corporation, Lockheed Martin, Microsoft, Trimble Navigation, HP, ORACLE, Booz Allen Hamilton also attended the forum
Anne E. Derse - The US attaches great importance to Azerbaijan as its strategic ally
29 Sen. 2006 13:00 - Azeri Press Information Agency - Aydin Aliyev, chair of the State Customs Committee has received US ambassador to Azerbaijan Anne E. Derse. The Committee press service told APA that Mr. Aliyev said political, economic and commercial relations between the two strategic allies Azerbaijan and the US have also influenced customs sphere. He briefed the ambassador of the role of customs committee in formation of the budget incomes and assurance of the economic security and development of new customs code. He expressed hope that "Agreement between the USA and Azerbaijan on mutual assistance and cooperation" will shortly be signed. He said he acquainted himself with FLETC in the US and asked the Ms. Derse to help Azerbaijani customs officers take part in training there. The ambassador said the US attaches great importance to Azerbaijan as its strategic ally and she was pleased with the level of political and economic cooperation between the two countries. She said training of the Azerbaijani customs officers in FLETC ca be considered. Aydin Aliyev conferred the "Order of merits in customs cooperation" on the US embassy attache for export control and border problems.
Ogtay Hagverdiyev - Targol Investment, Fondel Metal, Barmek and some others are headache for Azerbaijan
03 October 2006 [16:01] - Today.Az - "Some foreign investors want to launder dirty money and make frauds in Azerbaijan," Cabinet officer for finance and credit affairs Ogtay Hagverdiyev told. Not referring to any company, Hagverdiyev said that companies not agreed with Azerbaijan as well as investors with whom the agreement was voided are agitating against Azerbaijan, APA reports. He said the Government terminated the agreement with Targol Investment and Fondel Metal because of inadequate implementation of the obligations. Hand-over test of Barmek is underway now. "These companies are a headache for Azerbaijan. We found irregularities in their activities and instruct them to correct them. We terminate the agreement when they don't correct the irregularities."
Israel and the regional oil axes

01 October 2006 - Today.Az – The United States has always tried, for strategic reasons, to build gas pipelines, excluding Russia's participation, in order to prevent Europe from depending on Russian gas, which currently covers one third of its total needs of gas. Given the presence of key oil and gas fields in the Caspian Sea States, the US government has supported a consortium of oil companies (called the BTC Pipeline Company) to build the Baku-Ceyhan oil pipeline and the trans-Caspian gas pipeline. The two projects led to a convergence of interests between Iran and Russia, due to their growing concern to see both Azerbaijan and Georgia in close cooperation with NATO. This desire led the Organization for Security and Co-operation in Europe (OSCE) to decide in its meeting in Istanbul on November 1999 to go ahead with building an oil pipeline, linking the Caspian fields with the Mediterranean (Baku-Ceyhan). This was followed by another resolution calling for the establishment of a gas pipeline crossing through Turkmenistan to Baku and then to Turkey. On July 13, 2006, the Baku-Tbilisi-Ceyhan (BTC) pipeline, 1,760 km long, was inaugurated to transport more than 1 million barrels per day (bpd) of oil from oil fields in the Caspian Sea to the Mediterranean. The opening ceremony was attended by representatives of companies contributing to the financing of the pipeline as well as two Israeli representatives. Israel imports from the pipeline about 20% of its oil needs that is expected to increase from the Caspian Sea region in the future. In addition, Israel is playing a key strategic role in protecting the regions the pipeline passes through to outside Ceyhan. In other words, its role can be summed up in controlling the upper zone, east of the Mediterranean. The Baku-Ceyhan oil pipeline, which is administered by the US-British oil giant, BP Company, has changed the geopolitical situation of the Eastern Mediterranean Zone that is associated with the corridor of the Caspian basin. The pipeline, which carries the oil and gas of Central Asia to the Eastern Mediterranean under the protection of Israel's military, was primarily designed to weaken the role of Russia in Central Asia and isolate China from the oil sources in Central Asia. It also helps transport part of the supply when the processing sources in the Middle East are interrupted. It also aims to isolate Iran, in addition to placing Israel as a new strong player in the global energy market through the new alliance between Azerbaijan, Georgia, Turkey and Israel. Israel is now part of the British-American military axis that serves the interests of giant Western oil companies operating in the Middle East and Central Asia. Part of the oil transported via this line goes to Israel. Israel aims not only to obtain part of the Caspian Sea oil for the purpose of consumption, but also considers playing a key role in re-exporting the Caspian Sea oil to the Asian markets through its port on the Red Sea. This is reinforced by the coordination and the ongoing negotiations between Turkey and Israel over linking the Ceyhan Port in Turkey with the port of Ashkelon in Israel. This link is to be achieved by creating projects for the transport of oil, natural gas, water and electricity through four undersea pipelines, bypassing Syrian and Lebanese territories. The Baku oil is transported to the port of Ashkelon, India and the Far East through the Red Sea. There is a military cooperation agreement between Tel Aviv and Ankara that supports supplying Israel with water from the Tigris-Euphrates basin in Anatolia. It is a long-term strategic objective of minimizing Syria, Iraq and maximizing the influence of Israel on them. Reports have indicated that secret negotiations are underway between Israeli Prime Minister Ehud Olmert and Russian President Vladimir Putin through Olmert's multi-billionaire friend, Benny Steinmetz, in order to secure natural gas equipment for Israel through a pipeline under the Mediterranean linking Turkey with Israel. The Russian gas will be transported through the Russia-Turkey pipeline, which was established by Russia two years ago, across the Black Sea in order to increase Russian leverage in Turkey. President Putin seeks to gain some influence in Israel in order to counterbalance the unilateral US power over Israel's policy. Energy is no longer a pure national issue in the world today. It is difficult today for a State to contain the difficulties caused by energy alone in a world where policy has become increasingly managed in the form of battles over energy sources that do not rule out the use of force. There are many documents confirming the readiness of the US to use military force in a war, or several wars, for oil. The invasion of Iraq, for example, has turned the Middle East, which has international economic importance, into a US military protectorate. The goal of US policy is to prevent the southern region (the Middle East, India, Iran, Pakistan and countries South of Russia) from submitting to only one player. It also aims to prevent these countries from working together under any form (alliances) to remove the US from its bases located on the southern coasts. The region is described as combining political chaos and rich energy sources and looks forward to regional hegemony. To achieve full US sovereignty over the region, the US is striving by all means to prevent Russia, China, India and Japan from taking control over the South. This is hegemonic behavior: the more the State becomes stronger militarily, economically and politically, the more it expands its geopolitical influence and involvement beyond its immediate neighbors. Napoleon said: "To know a country's geography means to know its foreign policy".
Azerbaijan exported 4 659 231.4 tonnes of crude oil in January-August
29 September 2006 [10:05] - Today.Az - Azerbaijan has exported 4 659 231.4 tonnes of crude oil of $1.8968 503bn during January-August of the year. As APA reports, SOCAR Foreign Economic Relations Department exported 2 449 901.2 tonnes (52.58%) and Azerbaijan International Operating Company (AIOC) exported 2 179 454.5 tonnes (46.78%) of crude oil.
Commissioning BTC pipeline is an extraordinary achievement - Anne E. Derse

29 September 2006 - Today.Az – SOCAR President Rovnag Abdullayev has received Anne E. Derse, US ambassador to Azerbaijan. As APA reports, Mr. Abdullayev said Azerbaijan and the USA have strategic relations and cooperation with the US companies will be continued afterward. The ambassador said there is prospective cooperation between SOCAR and US companies. She said cooperation between the USA and Azerbaijan came into a new stage after President Ilham Aliyev's visit to the USA and meetings in Washington and the two countries cooperate in various fields as well as energy security. Anne E. Derse, saying the commissioning of BTC pipeline is an extraordinary achievement, noted that SOCAR plays a vital part in the economy of Azerbaijan and she supports strengthening of US companies' relations with it.
Shell to transport Kazakh oil to BTC pipeline
28 September 2006 - Today.Az – Royal Dutch Shell wants to take part in the development of the Samsun-Ceyhan oil pipeline. As part of this objective, Shell signed a contract with Calik Energy and Italian Energy giant ENI, partners in the project. Shell is expected to contribute to the construction of the project and take part in the management of the pipeline. No information about the timeframe of this contribution and partnership has been announced. Canan Ediboglu, chief executive of Shell-Turkey, said oil produced in Kazakhstan would be sent to the pipeline after it was finished. The capacity of the pipeline is expected to be one million barrels per day in the beginning, and this will increase to 1.5 million barrels at the completion of the project. Calik Energy has been known to be conducting negotiations to meet one of the most important preconditions of a pipeline, which is throughput. The problem was mostly solved however after Shell became a partner in the project. Ediboglu said the daily oil production of Kazakhstan is more than 1.3 million barrels, adding. "Their export volume exceeds one million barrels per day and most of this oil is exported via the Black Sea, the Bosphorus and the Dardanelles Straits." Shell and ENI are also partners in the Caspian Oil Pipeline Consortium, which was established to carry oil produced in the Kashagan region of Kazakhstan. The same authority said the decree, which allotted six months to Calik Energy to realize the project, was accepted in May 2006, and added taking concrete steps in this framework before the deadline ended was a positive development. Ediboglu said: "The project is very important toward making Ceyhan an energy terminal for international markets. The annual amount of oil entering Ceyhan will exceed 200 million barrels with the help of the Baku-Tbilisi-Ceyhan oil pipeline, in addition to the oil coming from Iraq."
Contact me: