Tuesday, October 10, 2006
Azeri parliament ratifies oil production agreement with Kazakhstan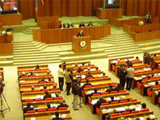 04 October 2006 [10:55] - ITAR-TASS - Milli Majlis has ratified an agreement on transportation of Kazakhstani oil to the world markets via the Caspian seabed and farther on via the territory of this Trans-Caucasian republic by Baku-Tbilisi-Ceyhan oil pipeline, the parliament's press service said on Tuesday.
The agreement was signed by the presidents of Azerbaijan and Kazakhstan, Ilkham Aliyev and Nursultan Nazarbayev, in Astana on June 16, 2006.
It envisions that about five million tonnes of Kazakh oil will be transported annually via the territory of Azerbaijan by the new trans-Caspian oil transportation network.
However, over years that volume will be increased up to 25 million tonnes of oil annually.
According to experts' estimates, the project implementation will cost about three million U.S. dollars. Those funds are necessary for creating a tanker fleet and an appropriate infrastructure on the eastern and western coasts of the Caspian Sea.
Contact me: